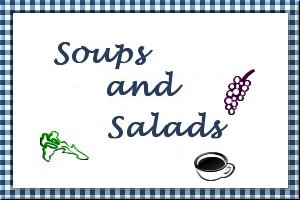 Rice Salad
Submitted by: Stargazer
2 cups rice
1 chopped apple
5 spring onions
3 cloves garlic
1 cup sultanas
fresh pepper to taste
Dressing:
1/2 cup oil
1/2 cup vinegar
1 tablespoon curry powder
1 clove garlic
2 teaspoon sugar
Boil 2 cups rice about 12 minutes or until cooked. Rinse in cold water. Add 1 chopped apple, about 5 spring onions, 3 cloves garlic, 1 cup sultanas. Season with pepper. Mix altogether.
Dressing: Mix together 1/2 cup oil 1/2 cup vinegar, 1 tablespoon curry powder, 1 clove garlic, 2 teaspoons sugar. Pour over rice and mix through thoroughly.

Marinated Shrimp Salad
Submitted by: Lady ~Debbii~
2 quarts water
1 large green pepper, coarsely chopped
1 cup sultanas
1/2 cup celery, sliced diagonally
2 ounces pimiento, diced, drained
2/3 cup cider vinegar
1/4 teaspoon paprika
2 1/2 pounds shrimp, medium-sized, unpeeled
4 green onions with tops, sliced
1/2 cup cucumber, chopped
1 cup apple juice, unsweetened
1/4 teaspoon hot sauce
1/3 pound fresh snow peas

Bring water to a boil; add shrimp, and cook 3 to 5 minutes. Drain well. Rinse with cold water. Peel and devein shrimp. Chill. Combine shrimp and next 5 ingredients in a large shallow dish. Combine apple juice, vinegar, hot sauce, and paprika, mixing well. Pour over shrimp mixture. Cover and refrigerate overnight. Arrange snow peas on a steaming rack, and place over boiling water, cover and steam 3 to 5 minutes or until crisp-tender. Chill peas. To serve, arrange peas on plate, top with shrimp mixture. Yield 6 servings.

Baby Spinach and Strawberry Salad
Submitted by: Brenda
2 bags baby spinach leaves
1 pint fresh strawberries
3/4 cup sugar
1/4 cup oil
1 teaspoon dry mustard
2/3 cup red wine vinegar
1/4 cup roasted slivered almonds
2 tablespoons roasted poppy seeds
Place washed and stemmed spinach leaves in large bowl (Tupperware works, as you need a lid). Mix well: strawberries, sugar, oil, dry mustard and vinegar in blender or electric mixer. Drizzle over spinach, add almonds. Seal bowl and shake well. Chill at least one hour before serving. Before serving sprinkle with poppy seeds. Salad will stay fresh for a few days.

To submit your favorite recipes to be included in the Garden of Friendship Recipe Book, please email them to Barbiel
Background graphics made especially for the Recipes Committee of the Garden of Friendship by Valatine