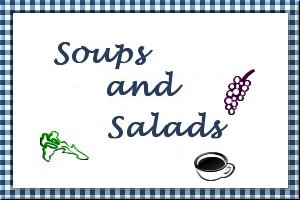 Apple Salad
Submitted by: Sugie
5 Granny Smith apples, peeled, cored & chopped
5 Red Delicious apples, peeled, cored & chopped
2 8-ounce cans pineapple chunks, drained
2 cups raisins
1 cup chopped pecans
1 16-ounce container frozen whipped topping, thawed
In a medium-size mixing bowl, combine the apples, drained pineapple, raisins, pecans and whipped topping. Mix well and serve chilled. Serves 15.

Spinach and Bacon Salad
Submitted by: Sugie
1 pound fresh baby spinach leaves gently washed and patted dry
1/3 cup lean cooked bacon, crumbled
2 hard boiled eggs, diced
1/4 cup olive oil
1/4 cup red wine vinegar
1 tablespoon fresh lemon juice
1/2 teaspoon sugar
salt and pepper to taste

Place spinach in a large serving bowl and sprinkle with bacon pieces and diced eggs. Combine remaining ingredients and shake well. Just before serving pour over salad and toss.
The Skinny: Use low fat turkey bacon.

Honey Apple Salad
Submitted by: Unicorn
3 1/2 cups red apples
2 tablespoons lemon juice
2 cups green grapes
1 cup thinly sliced celery
1/2 cup mayonaise
1/4 cup honey
2 tablespoons sour cream
1/2 teaspoon salt
1/2 cup chopped walnuts

In a large bowl toss apples with lemon juice. Add next three ingredients. In a small bowl combine next three ingredients, mix well. Pour over top of apple mixture and toss to coat, stir in walnuts. Serve immediately. Serves 8.

To submit your favorite recipes to be included in the Garden of Friendship Recipe Book, please email them to Barbiel
Background graphics made especially for the Recipes Committee of the Garden of Friendship by Valatine