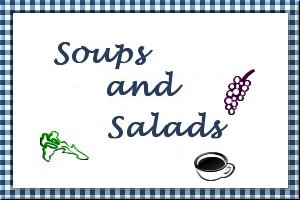 Insalata Caprese
(Italian Tomato-Mozzarella-Basil salad)
Submitted by: Barbiel
1/2 pound fresh mozzarella cheese, sliced 1/4-inch thick
2 large ripe tomatoes, sliced 1/4-inch thick
1 cup fresh basil leaves
salt and freshly ground pepper
2 tablespoons drained capers (optional)
1/4 cup Olive oil
In a circular design around the side of a serving plate, alternate fresh mozzarella slices on a large platter (or on individual plates if you are doing individual portions) with sliced tomatoes, overlapping for effect. Tear fresh basil leaves and sprinkle liberally over the slices. Add salt and freshly ground pepper to taste. Sprinkle capers over the top. Just before serving, drizzle on some excellent extra-virgin olive oil. Serves 4.
Note: Insalata Caprese should never be allowed to sit in oil for any length of time and become soggy. And no vinegar of any kind goes on Insalata Caprese!

Mixed Greens with Pears and Walnuts
Submitted by: Barbiel
1/2 cup walnuts
(pecans, hazelnuts, etc. may be substituted)
2 firm pears
2 tablespoon butter
1 tablespoon sugar
3 tablespoons white wine
1/4 cup unseasoned rice vinegar
3 tablespoons white wine vinegar
1/2 cup walnut oil or extra-virgin olive oil
2 cloves garlic, minced
salt and coarsely ground black pepper to taste
6 to 8 cups mixed baby salad greens
(washed and spun dry)
Goat Cheese Croutons (recipe below)
Preheat oven to 400°F. On a baking sheet, lightly toast nuts; remove from oven and let cool. Peel and core the pears, then cut into 1/2" dice. In a saucepan over medium heat, melt the butter. Add the diced pears and sugar; saute, stirring frequently, until the pears start to caramelize a bit, then add the white wine and continue cooking until the pears are just glazed. Remove from heat and let cool. In a small bowl or jar, whisk together the rice vinegar, wine vinegar, walnut or olive oil, garlic, salt, and pepper; set aside. Toss the greens with the dressing and distribute among eight individual serving plates. Spoon the caramelized pears and walnuts around the outside of the greens. Place the warm Goat Cheese Croutons on the center of the greens and serve immediately. Makes 8 servings.
Goat Cheese Croutons
1 pound medium-soft goat cheese logs
3 sheets frozen phyllo dough, thawed
2 to 3 tablespoons olive oil
Cut the goat cheese into eight 1/2-inch slices Cut the thawed phyllo into long, thin strips (chiffonade): a pasta machine cutter works well and makes uniform sizes. Wrap each goat cheese round in a nest of phyllo strips (they should look alot like shredded wheat). Place them on lightly oiled baking sheet; set aside. When ready to use, preheat broiler. Brush the phyllo/goat cheese rounds with olive oil. Place under broiler in oven until lightly browned; turn them over and brown the other side. Remove from oven and transfer to the individual salads with a spatula.
Note: Use dental floss to slice the cheese logs cleanly. The croutons may be refrigerated, covered, at this point for 1 hour.

Sweet Potato Salad
Submitted by: Barbiel
2 large sweet potatoes or yams, cut into 1" cubes
1 small red or white onion, diced fine
1 medium red pepper, diced
2 tablespoons cilantro, finely chopped
2 tablespoons olive oil
Red Pepper Vinaigrette (recipe below)
Put sweet potatoes into bowl and toss with olive oil. Spread on sheet pan and bake in preheated oven for 25 -30 minutes or until tender and fragrant. Remove and allow to cool 20 minutes. Combine remaining ingredients with Red Pepper Vinaigrette, add sweet potatoes and serve. Yield: 4 servings.
Red Pepper Vinaigrette
1 roasted red peppers, diced
1 cup water
3 tablespoons oil
3 tablespoons cider vinegar
2 teaspoons honey
1/2 teaspoon salt
1 garlic clove, chopped
fresh black pepper
basil leaves
Mix all ingredients, shaking well.

To submit your favorite recipes to be included in the Garden of Friendship Recipe Book, please email them to Barbiel
Background graphics made especially for the Recipes Committee of the Garden of Friendship by Valatine