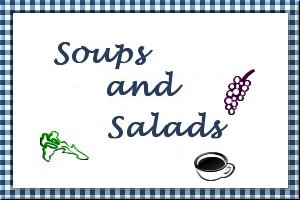 Seafood Salad
Submitted by: Lady Lynda
1 pound small shrimp, cooked
1 pound backfin crabmeat or imitation crabmeat
1/2 cup small black olives
2 ripe tomatoes, chopped
1/2 cup celery, chopped
1/2 pound small shells pasta, cooked and cooled
1/2 cup mayonnaise
1/2 cup plain yogurt
1 cup chili sauce
Combine first 6 ingredients in a large bowl and toss. Chill until ready to serve. Combine last 3 ingredients and whisk together. Just before serving, place salad on individual serving plates and scoop a desired amount of dressing on top of salad. Toss and serve cold. Makes 4 servings.

Almond Peach Chicken Salad
Submitted by: Barbiel
3 cups diced chicken
1 1/2 cups green grapes, halved
1 cup toasted almonds
1 1/2 cups mayonnese or salald dressing
1 cup sour cream
white pepper and salt to taste
Combine sour cream and mayo, and add to diced chicken till thourougly mixed. Add grapes, being careful not to smash them. Then add almonds, salt and pepper, and refrigerate. Best when served on a croissant. Serves 4.

Orange and Onion Salad
Submitted by: Barbiel
6 large oranges
3 tablespoons red wine vinegar
6 tablespoons olive oil
1 teaspoon dried oregano
1 red onion, thinly sliced
1 cup black olives
1/4 cup chopped fresh chives
ground black pepper to taste
Peel the oranges and cut each one into 4 or 5 crosswise slices. Transfer them to a shallow serving dish and sprinkle them with the vinegar, olive oil, and oregano. Toss gently, cover, and refrigerate for 30 minutes. Toss the oranges again, arrange the sliced onion and black olives over them decoratively, sprinkle with chives and grind on fresh pepper. Serves 6.

To submit your favorite recipes to be included in the Garden of Friendship Recipe Book, please email them to Barbiel
Background graphics made especially for the Recipes Committee of the Garden of Friendship by Valatine