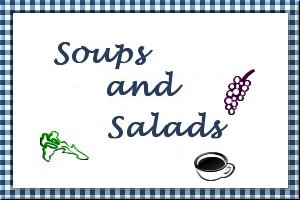 Raisin Waldorf Salad
Submitted by: Wolfmama
3 apples, chopped fine
2 tablespoons lemon juice
3/4 cup celery, chopped fine
1/2 cup mayonnaise
1/4 cup sour cream
1/2 cup raisins
1/4 teaspoon salt
1/2 cup pecans (optional)
Blend 1/2 cup mayonnaise and 1/4 cup sour cream. Toss lightly until apples are coated. Serve on lettuce leaf. Serves 4-6.

Shoepeg Corn Salad
Submitted by: Wolfmama
2 cans shoe peg corn, drained
1 green pepper, chopped fine
1 bunch green onions, chopped fine
1 jar pimento, drained and chopped
1/2 cup ripe olives, sliced
1 cup grated Cheddar cheese
Toss together with 8 oz. low calorie or regular Italian dressing. Serves 12 to 14.

Artichoke Salad
Submitted by: Vadi
1 (7 ounce) package dry Italian-style salad dressing mix
1 cup low fat sour cream
4 cups chopped romaine lettuce
1 cup chopped red bell pepper
1 cup chopped broccoli
1 cup sliced fresh mushrooms
1/4 cup diced onion
1 (14 ounce) can artichoke hearts, drained and chopped
In a small bowl, whisk together the sour cream and Italian dressing mix. In a large bowl, toss together the lettuce, red pepper, broccoli, mushrooms, onion and artichoke hearts. Top with dressing and toss until evenly coated. Refrigerate until ready to serve. Serves 4.

To submit your favorite recipes to be included in the Garden of Friendship Recipe Book, please email them to Barbiel
Background graphics made especially for the Recipes Committee of the Garden of Friendship by Valatine