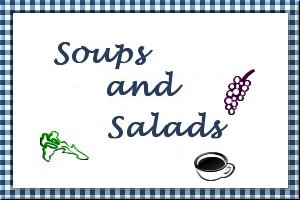 Carrot Soup with Ginger and Lemon Cream
Submitted by: Lady Seanna
25 g/1 oz unsalted butter
1 large onion, chopped
2 tablespoons fresh ginger, peeled and finely grated
2 cloves garlic, minced
600 g/1lb 5oz carrots, peeled and cut into 2.5cm/1in pieces
675 ml/1pint 2fl oz stock
Lemon Cream
(recipe below)
Melt the butter in a heavy large pot over a medium-high heat. Add the onion and cook for about 4 minutes. Add the ginger and garlic; cook for another 2-3 minutes. Add the chopped carrots and sauté for another 1-2 minutes. Add the chicken stock and bring to the boil. Reduce the heat and simmer until the carrots are very tender, about 20 minutes. While the soup is cooling slightly, prepare the Lemon Cream. Pureé the soup in batches in a blender or food processor. Return the soup to the pot. Season with salt and pepper to taste. Bring the soup back to a simmer, thinning with more stock, if necessary. Just before serving, grate in a bit more fresh ginger. Ladle into bowls and use a teaspoon to drizzle, or a plastic squirt bottle to draw, a pattern onto the surface of the soup with the Lemon Cream. Top with finely snipped chives.
Lemon Cream:
finely grated rind of one lemon
55 ml/1 3/4 oz double cream
fresh chives, for garnish
In small bowl, combine the double cream and the grated lemon zest. Cover with cling film and refrigerate.

Chickpean and Herb Soup
(Garbanzo)
Submitted by: Lady Seanna
410 g can chickpeas, drained
1 tablespoon Olive oil
1/2 onion, peeled and finely chopped
2 garlic cloves, peeled and finely chopped
400 ml/ 14fl oz vegetable stock
55 g/ 2oz mixed fresh herbs, chopped e.g. flatleaf parsley, coriander, basil, chives
55 g / 2oz Greek yoghurt
salt and freshly ground black pepper
Heat the oil in a medium saucepan. Sauté the onion for 1-2 minutes to soften. Stir the garlic and chickpeas into the onions. Pour in the vegetable stock and bring to the boil. Reduce the soup to a simmer and cook for 4-5 minutes. Stir the herbs into the soup, then carefully transfer the soup to a liquidiser. Blend the soup until you have a smooth consistency. Season. Serve with a quenelle of Greek yoghurt on top.

Pasta-Lentil -Tomato Soup
Submitted by: Lady Seanna
3 tablespoons Olive oil
2 onions, finely chopped
6 cloves garlic, finely chopped
2 sticks celery, finely chopped
110 g/ 4oz smoked streaky bacon, chopped into small pieces
225 g/ 8oz Puy lentils
4 tomatoes, skinned, de-seeded and chopped
400 g/ 14oz tin chopped plum tomatoes
2 bay leaves
3-4 sprigs fresh thyme
1.5 litre/ 2 1/2 pint chicken stock, plus a further 275ml/˝ pint
225 g/8 oz macaroni or similar small pasta shapes
salt and freshly ground black pepper
2-3 tablespoons chopped fresh parsley
75-110 g/ 3-4oz Parmesan cheese, freshly grated
Heat the oil in a large, heavy-bottomed casserole, add the onions, garlic, celery and bacon and cook over a low heat for about 10 to 15 minutes, or until the vegetables are soft and translucent. Add the lentils and stir well to ensure that they are coated in oil. Add the fresh and tinned tomatoes, bring to the boil, and then add the bay leaves, thyme and the stock. Simmer for about 40 minutes, or until the lentils are cooked. If the mixture is absorbing a lot of stock, add some more, keeping the level above the lentils. Cook the macaroni in boiling water, drain well and add to the soup, along with an extra couple of ladles of stock. Season well and garnish with parsley. Serve the soup in bowls, sprinkled with Parmesan cheese.

To submit your favorite recipes to be included in the Garden of Friendship Recipe Book, please email them to Barbiel
Background graphics made especially for the Recipes Committee of the Garden of Friendship by Valatine