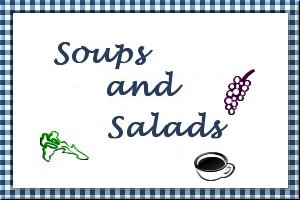 Creamy Eggplant Soup
Submitted by: LisaW
1/4 cup plain yogurt
1 tablespoons minced tomato
1 tablespoons minced red bell pepper
1 1/2 lb. eggplant, halved lengthwise
salt to sprinkle
Olive oil for brushing
1 tablespoon Olive oil
3 cloves garlic, crushed
2 cups chopped onion
1 teaspoon salt
1/2 teaspoon black pepper
2 cups vegetable broth
3 tablespoons Sour cream
2 tablespoons Tahini
1/4 teaspoon Cayenne pepper
1/4 teaspoon ground cumin
1/4 cup minced fresh parsley
Stir together yogurt, tomato, and bell pepper; refrigerate until needed. Lightly salt eggplant and allow to sit for 15 minutes. Rinse and pat dry eggplant. Brush the cut sides with Olive oil and lay, cut sides down, on a cookie sheet. Bake in a 375°F oven for 35 minutes. Scoop out the eggplant pulp and discard the skins. Saute garlic and onions in 1 tablespoon oil until onions caramelized. Season with salt and pepper. Puree eggplant pulp, broth, and caramelized veggies in a blender. Heat mixture, then whisk in Sour cream, Tahini, Cayenne pepper and cumin until smooth. Simmer, covered, for 30 minutes. Stir in parsley, portion into bowls, and spoon a bit of yogurt mixture on top of each bowl. Serves 4.

Tuscana Soup
Submitted by: LisaW
1 lb. spicy Italian sausage, crumbled
1/2 lb. smoked bacon, chopped
1 qt. water
(2) 14.5 oz. cans chicken broth
2 large russet potatoes, cubed
2 garlic cloves, crushed
1 med. onion, chopped
2 cups chopped kale or Swiss chard
1 cup heavy whipping cream
salt and pepper to taste
In a skillet over medium-high heat, brown sausage, breaking into small pieces as you fry it; drain, set aside.In a skillet over medium-high heat, brown bacon. Drain, set aside. Place water, broth, potatoes, garlic, and onion in a pot. Simmer over medium heat until potatoes are tender. Add sausage and bacon to pot; simmer for 10 minutes. Add kale and cream to pot; season with salt and pepper; heat through and serve. Makes 4 servings.

Won-Ton Soup
Submitted by: LisaW
1/2 lb. ground pork
1 1/2 tablespoons minced green onions
4 oz. can tiny shrimp, drained, chopped
1 1/2 tablespoons minced fresh ginger
1 1/2 teaspoons sesame oil
1 egg white, lightly beaten
1 tablespoon Soy sauce
1/2 teaspoon salt
1/4 teaspoon black pepper
1 1/2 tablespoons cornstarch
12 oz. package won-ton wrappers
1 egg, beaten
3 qts. water for boiling
1 qt. chicken stock
1 1/2 cups sliced green cabbage
1/4 cup canned water chestnuts, julienne
1 cup sliced fresh mushrooms
1 cup snap pea pods
1 teaspoon Soy sauce
1 teaspoon salt
Using your hands or a spoon, combine pork, water chestnuts, green onion, shrimp, ginger, sesame oil, egg white, salt, Soy sauce and pepper. Add the cornstarch to mixture and stir to blend. Place a scant teaspoonful of the filling in the center of each wonton skin. Fold one corner over the filling toward the opposite corner. Roll the wonton up diagonally towards the corner you just folded in. Brush with egg. Fold the two remaining corners into the middle. Place the finished dumplings on a tray that has been lightly dusted with cornstarch. Heat 3 qts. of water to boiling in a large pot. Add the won-tons and cover. Once the water is boiling again, cook for about 4 minutes or until they rise to the surface. Remove with a long-handled strainer and drain. Discard the water. Heat remaining ingredients to boiling, add the cooked won-tons and serve. Serves 4.

To submit your favorite recipes to be included in the Garden of Friendship Recipe Book, please email them to Barbiel
Background graphics made especially for the Recipes Committee of the Garden of Friendship by Valatine