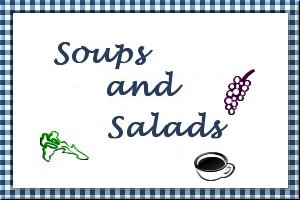 Carrot-Quince Soup
Submitted by: Merribuck
200 g quinces
100 ml apple juice
100 ml carrot juice
1 small onion
4 - 5 Champignons
150 g carrots
100 g quince
2 tablespoons butter
2 tablespoons fresh ginger, chopped
300 ml carrot juice
600 ml vegetable broth
200 g fresh cream
salt and pepper to taste
some chervil to decorate
Wash 200 g quince, peel, cut in four pieces, remove kernel and cut once more in slices. In a pan mix apple and carrot juice, add quinces slices and cook until soft. In another pan dice onion and Champignons, cut carrots and 100 g quince in small dices and cook. Chop ginger and add to the mixture. Simmer for about 10 minutes. Add carrot juice and vegetable broth and cook until tender. Puree. Season again (with salt and pepper) if necessary. Add cream. Remove quince from first pan, place at four soup dishes, fill with soup and decorate with very fine chevril before serving. Makes 4 servings.

Avocado Soup
Submitted by: Merribuck
4 avocados
juice from one lemon
1/2 tablespoon salt
1/2 teaspoon pepper
dash of nutmeg
1/2 teaspoon dried dill
4 small eggs
3/4 liter chicken broth
100 g Crème fraîche
Soy sauce to serve (optional)
Wash avocados, peel, remove kernel and cut in the half. Remove pulp, cut in small dices and puree with salt, pepper, nutmeg and lemon juice. Cook chicken broth with dill about 10 minutes. Add avocado puree. Let it rest for 5 minutes. Separate each egg and reserve. Pour soup in four serving soup dish, add individual eggs and serve with Crème fraîche at the top. Season with Soy sauce, if desired. Serves 4.

Yellow Pepper Soup
Submitted by: Merribuck
2 tablespoons Olive oil
2/3 cup chopped onion
1/3 cup diced celery
1 3/4 cup chicken broth
1 1/2 cup water
3/4 cup cubed yukon gold or red potatoes
1/4 teaspoon salt
1/4 teaspoon thyme
1/8 teaspoon pepper
2 yellow bell peppers, seeded and quartered
chopped parsley
In soup pot, heat oil. Add onion and celery and cook until soft. Add next six ingredients. Bring to boil. Cover, reduce heat and simmer 40 minutes. Puree mixture in blender and garnish with parsley to serve.

To submit your favorite recipes to be included in the Garden of Friendship Recipe Book, please email them to Barbiel
Background graphics made especially for the Recipes Committee of the Garden of Friendship by Valatine