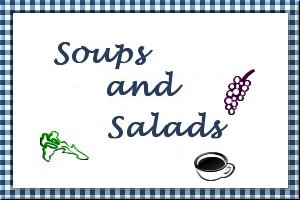 Broccoli, Ham, Potato and Cheese Soup
Submitted by: Praying Bear
1 pound package chopped broccoli,
1/3 cup chopped onion
4 to 5 potatoes
peeled and cut into medium-sized chunks
1 cup diced celery
1 pound cooked ham or turkey ham, diced
1 to 1 1/2 pounds Velveeta
1 or 2 cans evaporated milk
salt and pepper to taste
garlic powder to taste
Cover potato chunks, chopped onion and celery dices with water and cook til almost done. Add broccoli and cook until broccoli is tender. Cut Velveeta into chunks, and add to the potatoes,broccoli, celery and onion (do not drain the water from these). Cook and stir until cheese is melted, then add evaporated milk, to make the soup the desired consistency. Season to taste with salt, pepper and garlic powder.
Note: This recipe can be made substituting cooked, chopped chicken, orcooked and drained ground beef or ground turkey for the ham.

Calamari Stew
Submitted by: Barbiel
3 lbs calamari (squid), cleaned and cut
1/3 cup Olive oil
1/4 cup white sherry
1 tablespoon crushed fresh garlic
1/2 lemon
1 teaspoon dry basil or 1 tablespoon fresh
1 teaspoon dry oregano or 1 tablespoon fresh
1/4 teaspoon dry crushed red pepper
Red Sauce (recipe below)
In large skillet heat Olive oil at high heat. Add sherry wine and saute crushed garlic (caution: this procedure will flame up!) Indoors add wine and lemon juice after calamari has been sauted. Squeeze the juice of 1/2 lemon into the pan and place the lemon rind in the pan. Sprinkle herbs over and add calamari. Saute calamari for approximately 2 minutes on high heat. Do not over-cook! Serves 6.
Red Sauce:
1 lb whole, peeled tomatoes, canned or fresh
1 tablespoon Olive oil
1/2 green pepper chopped
1 stalk celery, chopped
1 medium-sized yellow onion, chopped
3 cloves fresh garlic, minced
Mash tomatoes with potato masher and set aside. In medium-size pan heat oil, add chopped ingredients and saute until onion is transparent. Add mashed tomatoes and simmer for 1/2 hour. Pour red sauce over calamari and heat for 1 minute.

Crab-Yougurt Soup
Submitted by: Barbiel
2 medium cucumbers, peeled, seeded, and chopped (about 3 cups)
2 medium yellow bell peppers, chopped (about 1 cup)
2 cups 1-inch cubes honeydew melon
1 1/2 tablespoons finely chopped shallot (about 1 large)
1 fresh jalapeño chili, or to taste, seeded and chopped
1/2 cup plain yogurt
3 tablespoons fresh lemon or lime juice, or to taste
1/2 pound Dungeness lump crab meat, picked over
1 tablespoon extra-virgin Olive oil
2 teaspoons white-wine vinegar, or to taste
3 tablespoons finely chopped fresh chives, or to taste
finely diced yellow bell pepper and 2-inch pieces fresh chives to garnish
In a blender purée soup ingredients with salt and pepper to taste until smooth. Force soup through a fine sieve into a bowl and chill, covered, 4 hours, or until very cold. Soup may be made 1 day ahead and chilled, covered. Just before serving, in a small bowl toss crab with oil, vinegar, and salt and pepper to taste. Divide crab mixture among 6 soup bowls, mounding it in center, and ladle soup around it. Sprinkle each serving with finely chopped chives and garnish with diced yellow pepper and chive pieces. Serves 6.
Note: A cold soup, very refreshing!

To submit your favorite recipes to be included in the Garden of Friendship Recipe Book, please email them to Barbiel
Background graphics made especially for the Recipes Committee of the Garden of Friendship by Valatine