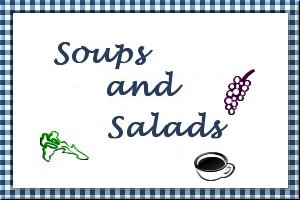 Tomato Cream Soup
Submitted by: Lady Lynda
2 leeks
3 tabespoons butter
1 lb tomatoes, peeled and roughly chopped
3 large potatoes, peeled and sliced
1 teaspoon sugar
2 1/2 cups water
1/2 cup sour cream
chopped fresh parsley and croutons, to serve
Finely slice only the white part of the leek. Melt butter, add leek and gently fry for 1 minute. Remove from heat and add chopped tomatoes. Return to heat, stirring until tomatoes soften. Add potatoes, sugar and water and bring to a boil. Lower heat and simmer for 30 minutes. Blend until smooth. Stir in cream and carefully reheat. Do not allow soup to boil as the cream will curdle. Serve with a sprinkle of parsley and some croutons. Makes 4 servings.

Chicken Noodle Corn Soup
Submitted by: Lady Lynda
2 cans chicken noodle soup, diluted as directed on can
1 can creamed corn
3 hard cooked eggs, if desired
Heat diluted soup and corn. Add sliced eggs. Serve.

Avocado and Cilantro Soup
Submitted by: BettyG
4 avocados, peeled, pitted and diced
1 shallot, finely chopped
3 1/2 cups cold chicken broth
2 tablespoons tomato paste
1 teaspoon hot pepper sauce (e.g. Tabasco)
1 tablespoon fresh lime juice, or to taste
1 tablespoon Tequila (optional)
2 tablespoons chopped fresh cilantro
salt and pepper to taste
2 tablespoons Sour cream
In a large food processor, combine the avocado, shallot, chicken broth, tomato paste, hot pepper sauce, lime juice and Tequila. Reserve a little bit of cilantro for garnish, then put the rest into the processor. Process until smooth. Season with salt and pepper. Transfer to a large bowl, cover and refrigerate for at least 2 hours before serving. To serve, divide the soup between four chilled bowls. Top with a dollop of Sour cream and a sprig of cilantro. Serves 4.

To submit your favorite recipes to be included in the Garden of Friendship Recipe Book, please email them to Barbiel
Background graphics made especially for the Recipes Committee of the Garden of Friendship by Valatine