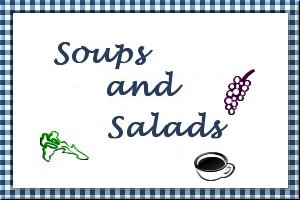 Cream of Lettuce Soup
Submitted by: Merribuck
2 tablespoons butter
1 tablespoon finely chopped onion
2 tablespoons all-purpose flour
1 pound leaf lettuce, coarsely chopped
4 cups (1 liter) milk or chicken stock
1 cup (250 ml) heavy cream
salt and freshly grated pepper to taste
a grating of fresh nutmeg
Heat the butter in a heavy pot over moderate heat and saute the onion until tender but not brown, about 5 minutes. Stir in the flour and cook for 3 minutes. Add the lettuce and cook until tender, about 5 minutes. Add the milk and bring to a boil, stirring frequently. Puree in batches in an electric blender or food processor. Return to the pot and stir in the cream, salt, pepper and nutmeg. Serves 4 to 6.

Whistle Stop Cafe Oyster Stew
Submitted by: Merribuck
2 12-ounce containers fresh select oysters, including liquor
3 slices bacon, cut into 1" pieces (I used turkey bacon)
2 medium red potatoes, 1/2" dice, boiled until tender, drained
1/2 cup finely chopped onion
1/2 cup finely chopped celery
2 cloves garlic, minced (or more if you're a garlic lover!)
1 14-ounce can creamed corn
3 cups half-and-half (or 2 cups half-and-half and 1 cup milk), pre-warmed
2 tablespoons Worcestershire sauce
1/2 teaspoon salt
1/2 teaspoon freshly ground pepper, or to taste (I use a lot!)
several dashes Tabasco sauce, to taste
1/3 cup minced fresh curly parsley, to garnish
1/2 cup minced scallions (both white and green part) to garnish

Drain oysters, reserving liquor. Fry bacon until crisp in a large heavy saucepan. Using a slotted spoon, transfer it to paper towels to drain. Add onion and celery to bacon drippings and saute until tender. Add potatoes, garlic, creamed corn, reserved oyster liquor, half-and-half, Worcestershire, salt, pepper and Tabasco. Bring just to a boil over medium heat, stirring frequently. Add oysters and bacon; cook 3 minutes or until edges of oysters begin to curl. Ladle into soup bowls, sprinkle with parsley and scallions. Yield: 6 servings.

Title
Submitted by:
Ingredients
Ingredients
Instructions

To submit your favorite recipes to be included in the Garden of Friendship Recipe Book, please email them to Barbiel
Background graphics made especially for the Recipes Committee of the Garden of Friendship by Valatine