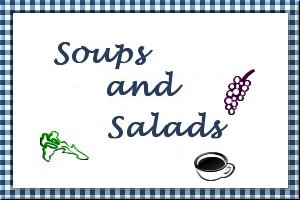 EZ Tomato Soup
Submitted by: Jezebel Jen
6 large beefsteak tomatoes
1 pound bacon, diced
1 green pepper, diced
1 red pepper, diced
1 yellow pepper diced
1 orange pepper, diced
1 pound mushrooms
Garlic powder to taste
Italian spice to taste
Onion powder to taste
Salt and pepper to taste
In a large skillet, sauté bacon, onions, and peppers. When these are soft, add sliced tomatoes and mushrooms. Cook until tomatoes turn to liquid. Add your spices to taste. Serve in a large soup bowl with lots of toast.

Mexican Hamburger Stew
Submitted by: Denise
2 pounds hamburger
1 medium onion, chopped
1 teaspoon chili powder
Dash garlic salt
1 can tomato soup
1 can vegetable beef soup
2 cans kidney beans
1 small can corn

Brown hamburger and onion in a large pan and add seasonings. Combine soups in a kettle, bring to a boil and simmer 10 minutes. Add soups to meat, add beans and corn and simmer 10 minutes. Serve over warm corn chips. Top with shredded cheese.

Simple Chili
Submitted by: Jezebel Jen
1 pound ground beef
1 medium onion, diced
2 1/2 tablespoons chili powder
1/2 teaspoon garlic, minced
1 15-ounce can kidney beans
1 16-ounce can diced tomatoes
1 8-ounce can tomato sauce
1/4 cup green chilies, chopped
Grated sharp cheddar cheese

Brown the beef in a heavy pot. Add the onion and garlic. Cook until just soft. Drain off any excess fat. Add the remaining ingredients. Bring to a boil. Reduce the heat and simmer for one hour.

To submit your favorite recipes to be included in the Garden of Friendship Recipe Book, please email them to Barbiel
Background graphics made especially for the Recipes Committee of the Garden of Friendship by Valatine