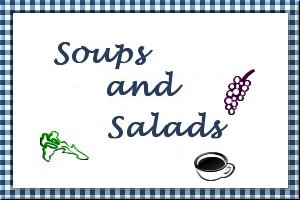 Creamy Coconut Soup
Submitted by: Wolfmama
2 coconuts
3 onions
3 leeks
1 pound of potatoes
5 ounces of fresh cream
11/2 ounces butter
Peel and wash the vegetables. Chop the leeks (avoiding the green leafy part) and onions. Dice the potatoes. Break and shell the coconut and peel off the brown skin. Put the butter in a large casserole and gently cook the onions and leeks. Do not brown them. Grate the coconuts and add to the above cooked vegetables. Incorporate the diced potatoes. Add water, salt and let cook for 30 minutes. Pass this mixture in the blender. In order to ensure a "lumpless" creamy consistency, strain the soup and then pour in the fresh cream. Correct the seasoning. Serve your soup very hot. 4 servings.

Tomato Soup With Dumplings
Submitted by: Lady Nickitta
2 cans ( 14 1/2 oz. ) whole tomatoes
4 cups tomato or V8 juice
1/4 cup butter
1 beef bouillon cube

1/4 teas. garlic powder
1/4 teas. pepper
1/4 teas. dried oregano

~ Dumplings ~
1 1/2 cups all purpose flour
2 teas. baking powder
1/4 teas. salt
1/4 teas. poultry seasoning
1/4 teas. dried parsley flakes
1 egg
2/3 cup milk
Use a large kettle, combine first 8 ingredients, bring to a boil. Reduce heat to simmer. Mix dry ingredients for dumplings. Beat egg and milk and add to the dry ingredients to make a stiff dough. Drop by spoonfulls onto the simmering soup. Cover and simmer 20 minutes or until a toothpick comes out clean. Serve immediately. Makes 8 servings/2 qts.

Sweet Potato Soup with Rum Cream
Submitted by: Barbiel
1 1/2 tablespoons butter or margarine
1 small onion, chopped
4 1/2 cups chicken broth
3 medium-size sweet potatoes, peeled and cubed
(1 3/4 to 2 pounds)
2 tablespoons maple syrup
2 fresh thyme sprigs or 1/2 teaspoon dried thyme
1/2 teaspoon curry powder
1/2 cup whipping cream
1/4 teaspoon salt
1/8 teaspoon ground white pepper
pinch ground nutmeg
pinch ground red pepper
fresh thyme sprigs to garnish
1 tablespoon Rum
Rum Cream (see below)
Melt butter in a Dutch oven over medium-high heat. Add onion, and sauté until tender. Stir in chicken broth and next 4 ingredients; bring to a boil. Reduce heat, and simmer 1 hour or until potato is tender. Remove and discard thyme sprigs. Cool slightly. Process mixture in batches in a blender until smooth, stopping to scrape down sides. Return to Dutch oven, and stir in whipping cream and next 4 ingredients. Cook over low heat, stirring occasionally, until thoroughly heated. Add Rum and cook 5 minutes more. Serve with Rum Cream. Garnish, if desired. Yield: 8 cups.
Rum Cream:
1/2 cup whipping cream
1/8 teaspoon grated lemon rind
1/4 teaspoon fresh lemon juice
1 1/2 tablespoons dark rum
Beat all ingredients at high speed with an electric mixer until soft peaks form. Yield: 1 cup.

To submit your favorite recipes to be included in the Garden of Friendship Recipe Book, please email them to Barbiel
Background graphics made especially for the Recipes Committee of the Garden of Friendship by Valatine