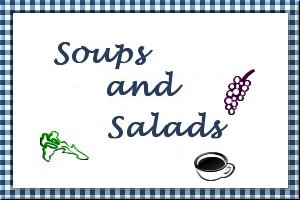 Avocado-Tomatillo Soup
Submitted by: Barbiel
3 poblano chiles, skinned, seeded, and diced
3 fully ripe avocados, cut in chunks
(reserving 1/2 of one avocado for the garnish)
4 cups cold water
1 pound tomatillos (green tomatoes), husked,
rinsed, cored, and quartered
3 tablespoons lime juice
salt and pepper to taste
The easiest way to skin the chiles is to broil them close to the heating element, turning with tongs, til they're charred all over--then sticking them in a plastic bag for a couple minutes. When they're skinned, cut off the tops and scrape away all the seeds. Then chop finely. Puree the chiles, avocados, and tomatillos in a blender, adding the water as needed to make into a smooth paste. Then add the remaining water, lime juice, salt, and pepper. Refrigerate for at least 2 hours. When ready to serve, ladle into bowls and sprinkle with the reserved avocado chunks. Makes 6 servings.
Note: You may use cayenne pepper instead of poblanos chiles (if you don't find them) but season very carefully.

Iced Shrimp Soup
Submitted by: Barbiel
2 hard cooked eggs, fine diced
3/4 cup golden raisins
3 cups plain yogurt, whipped smooth
1 and 1/2 cups ice water
3/4 cup heavy cream
1 large cucumber, peeled and fine diced
3 green onions, sliced lengthwise then chopped finely
salt and pepper to taste
6 large ice cubes
1/2 pound shrimp, boiled til red, peeled, deveined and iced in the refrigerator
parsley and dill, chopped fine
Plump the raisins for 3 minutes in hot water, then steep them in ice water for 5 minutes. Boil the eggs hard. Then start the raisins plumping in hot water to cover. In a large bowl, whipped the yogurt til smooth, then whisk in the cold water and cream. Dice then stir in the cucumber and green onions. Dice the eggs. Cool the raisins in ice water, then add them. Season to taste with salt and pepper. Float the ice cubes in the soup and refrigerate for at least 4 hours (ideally all day). Boil the shrimp in a few seasonings, shell, devein, and refrigerate to get ice cold. When ready to serve, ladle into bowls. Sprinkle a little dill and minced parsley on top. Slice the shrimp lengthwise and arrange color side up in a decorative pattern in each bowl. Makes 6 servings.

Cold Zucchini Soup
Submitted by: Barbiel
4 medium zucchinis (about 1 lb)
2 cups water
2 tablespoons cilantro or parsley leaves
2 tablespoons butter
2 tablespoons finely chopped onion
1 tablespoon flour
1 (13 oz) can evaporated skim milk
1 cup chicken broth
pinch of white pepper
cilantro or parsley leaves for garnish
Cut zucchini in large pieces. Place in a large saucepan. Add water and bring to a boil. Cover and cook until tender, about 20 minutes. Cool zucchini in cooking liquid. Place zucchini, 1 cup cooking liquid and 2 tablespoons cilantro or parsley in blender. Process until pureed. Heat butter in medium saucepan. Add onion. Cook until tender but not browned. Stir in flour. Cook and stir 1 minute. Add pureed zucchini mixture, evaporated milk and chicken broth. Stir to blend. Season with white pepper and salt, if needed. Stir over medium heat until soup comes to a boil. Chill and serve cold. Garnish each serving with a few whole cilantro leaves or parsley leaves. Makes 4-6 servings.

To submit your favorite recipes to be included in the Garden of Friendship Recipe Book, please email them to Barbiel
Background graphics made especially for the Recipes Committee of the Garden of Friendship by Valatine