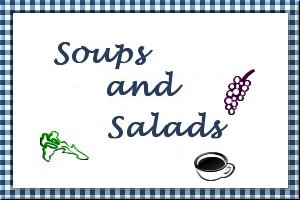 Shallots and Tarragon Soup
Submitted by: Wolfmama
5 cups chicken broth
8 large shallots in thin slices
1/2 teaspoon dried tarragon
2 celery stalks chopped with leaves
1/2 teaspoon salt
4 egg yolks
1 cup heavy cream
chopped chives
paprika
pepper to taste
In a saucepan, put chicken broth, shallots and tarragon and celery. Bring to a boil. Simmer, cover for 45 minutes in low heat. Into blender container ladle half of mixture, cover and at high speed, blend until smooth. Repeat with other half. In a bowl beat the cream and yolks. Stir into the soup. Reheat the soup stirring until yolk are cooked. Do not boil. Serve hot, garnish with chives and paprika. Makes 6 servings.

Cream of Broccoli Soup with Chedar Cheese
Submitted by: Wolfmama
2 cups milk
3 tablespoons butter
2 tablespoons finely chopped onion
3 tablespoons flour
1/2 teaspoon salt
1/8 teaspoon white pepper
1/2 teaspoon thyme
1/2 teaspoon granulated garlic
2 chicken bouillon cubes
1 1/2 cup boiling water
2 cups shredded Cheddar cheese
1 cup cooked finely chopped broccoli
Cook onions in butter until tender. Blend in flour and seasonings and cook 3 to 4 minutes, stirring constantly. Add boiling water and bouillon cubes and cook slowly until thick, stir in the milk until smooth. Add the cheese and broccoli and heat through. Garnish with fresh chopped parsley. Serves 6.

Tortellini Soup
Submitted by: Wolfmama
2 cloves garlic, crushed
1 tablespoon oleo
2 (13 3/4 ounces) cans College Inn Broth
8 oz. fresh or frozen tortellini
1 (15 ounce) can corn
1 (14 1/2ounce) can tomato sauce
1 (14 1/2 ounce) can tomato bits
pepper to taste (optional)
In large saucepan over medium high heat, cook garlic in oleo for 2 to 3 minutes. Add broth and tortellini. Heat to boil and reduce heat and simmer 10 minutes. Add corn and tomato and simmer 5 minutes more. Season with pepper (optional). Serve topped with cheese. Works good in crockpot. Serves 6.

To submit your favorite recipes to be included in the Garden of Friendship Recipe Book, please email them to Barbiel
Background graphics made especially for the Recipes Committee of the Garden of Friendship by Valatine