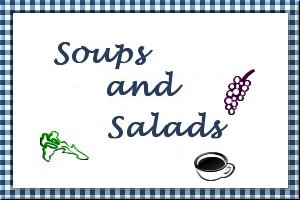 Soup with Dried Yogurt
Submitted by: Vadi
1/2 kilo yogurt
3 onions
dash of salt
3 ripe tomatoes
3 green peppers
sufficient flour
Wash the tomatoes and peppers, peel and slice the onions, add to the yogurt and stir. Sift in the flour and make a dough, cover with a glass or plastic lit. It should thicken every day, if not, add more flour. Let it stand for 10?12 days then rub small amounts between your hands onto clean tray. Then leave to dry in a cool place. In preparing for the table, mix four soupspoons "tarhana" in a little water, in a saucepan with 6 cups of water and cook 10 minutes. Add some melted margarine or butter, serve at once.

Broccoli, Asparagus or Cauliflower Soup
Submitted by: Wolfmama
2 tablespoons butter
2 tablespoons flour
1 bunch (10 oz.) fresh broccoli (asparagaus or cauliflower)
1 small onion, finely chopped
2 tablespoons butter
1 quart chicken stock or broth
1/2 cup heavy cream, warmed
salt and pepper
Melt 2 tablespoons butter in a small saucepan, stir in flour. Cook 3 minutes over low heat, stir constantly. Cool. Set aside. Stir small amount of liquid into cooked flour and butter mixture until smooth; return mixture to saucepan; stirring until smooth. Simmer, covered until vegetable is tender, about 30 minutes. Remove from heat, cool slightly. Puree in electric blender, return to saucepan. Blend cream into soup. Taste and salt and pepper if needed. Makes 4 servings.
Note: If using Broccoli: Wash and trim off tough part. Separate and cut into 1/2 inch pieces. In a large saucepan saute onion in 2 tablespoons butter until tender. Stir in broccoli, cover and cook 3 minutes. Stir in stock or broth, heat to simmering.

Chicken Ham and Rice Soup
(Canja -A portuguese chicken soup)
Submitted by: Barbiel
4 pounds whole chicken (cut into 6 -8 pieces)
1 medium onion, peeled and cut in half
1 quart chicken stock (fresh or can)
2 quarts cold water
6 medium tomatoes, peeled and coarsely chopped
1 cup carrots, finely diced
1 cup raw long grain rice
black pepper, freshly ground
1 cup cooked ham, finely diced
1 tablespoon fresh parsley, finely chopped
In a 5 quart flameproof casserole, combine the chicken, onion, chicken stoc and water. Bring to a boil over high heat, meanwhile removing all the scum from the surface as it forms. Reduce the heat to low, cover the casserole and cook undisturbed for 30 minutes, or until the chicken is tend but not falling apart. Transfer the chicken to a plate to cool. Strain the stock through a fine sieve into a bowl, and discard the onion. Skim off and discard as much of the surface fat as you can and return the stock to the casserole. Add the tomatoes, carrots, rice and a few grinding of black pepper and bring to a boil over high heat. Reduce the heat to low, cover the casserole and simmer stirring occasionally for 30 minutes, or until the rice is tender. Remove the skin from the chicken with a small, sharp knife or your fingers. Cut chicken meat into strips about 1/8 inch wide and 1 to 1 1/2 inches long. Add the chicken and ham to the simmering soup and cook for 4 or 5 minutes to heat them through. Stir in the parsley. Taste for seasoning. Serve at once, directly from the casserole. Makes 12 servings.
Note: Adding 1 1/2 tablespoons dried mince brings a wonderful taste to the soup!

To submit your favorite recipes to be included in the Garden of Friendship Recipe Book, please email them to Barbiel
Background graphics made especially for the Recipes Committee of the Garden of Friendship by Valatine