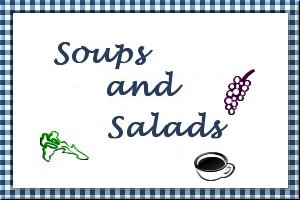 French Onion Soup
Submitted by: LisaW
2 tablespoons butter or margarine
4 medium white onions, sliced
3 cups beef broth
1 1/2 cups water
1 tablespoon Worcestershire sauce
1/4 teaspoon black pepper
1 dash dried thyme
1 cup French bread cubes
1/2 cup shredded Mozzarella cheese
salt to taste
Melt butter in saucepan over low heat. Add onions and cook 20 minutes, stirring occasionally. Add beef broth, water, Worcestershire sauce, pepper and thyme to pot. Increase heat and bring to boil, then reduce heat.Cover and simmer for 5 minutes. Divide into bowls. Top with bread cubes, then cheese. Broil until cheese is melted. Makes 4 servings.

Cream of Shrimp Soup
Submitted by: Molly
3 tablespoons butter
1 medium onion, finely chopped
1 medium potato, finely cubed
2 pounds shrimp, peeled and deveined
2 cups heavy cream
1 bay leaf, crumbled
1 tablespoon parsley, chopped
2 carrots, finely chopped
1 tablespoon Worcestershire sauce
1 cup dry White wine
1/2 tablespoon dried thyme
1 cup water
dash hot sauce
salt and pepper to taste
In a large saucepan, melt the butter over medium heat. Add carrots, onion, celery and potato and saute until the onion is translucent 2-3 minutes. Add White wine, water, cream, thyme, bay leaf and all but a handful of shrimp. Bring to a boil, reduce the heat, cover and simmer gently for 20 minutes. In small batches, puiree in a food processor. Return soup to the pan and season with salt, pepper, hot sauce and Worcestershire sauce. Cut the remaining shrimp into small chunks and add to the soup. Simmer gently until cooked through, 2-3 minutes. Garnish with parsley. Serves 4-6.

Nourishing Barley Soup
Submitted by: Boomboom
2 tablespoons pearl barley, soaked for 3 to 4 hours
2 tablespoons whole masoor (whole red lentils, soaked overnight and drained)
1 large clove garlic, chopped
3 spring onions (white and greens separated), finely chopped
1/4 cup carrots, diced
1/2 tomato, chopped
2 tablespoons chopped coriander
1 teaspoon oil
salt to taste
freshly ground pepper to taste
Drain the soaked barley and keep aside. Heat the oil in a pressure cooker, add the garlic and spring onion whites and sauté till the onion whites turn translucent. Add the barley, masoor, carrots, salt and 4 1/2 cups of water and pressure cook for 3 to 4 whistles. Cool slightly. Add the spring onion greens, tomato, coriander and pepper and bring to a boil. Serve hot. Serves 4.

To submit your favorite recipes to be included in the Garden of Friendship Recipe Book, please email them to Barbiel
Background graphics made especially for the Recipes Committee of the Garden of Friendship by Valatine