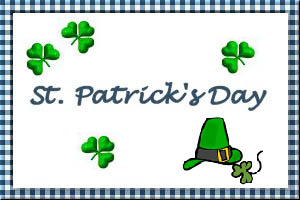 Irish Soda Bread
Submitted by: Jezebel Jen
4 cups flour
4 tablespoons white sugar
1 tablespoon double-acting baking powder
1 teaspoon baking soda
1/2 teaspoon salt
1 cup raisins or dried currants, rinsed in hot water and patted dry
1 tablespoon caraway seeds
1/2 cup margarine, softened
1 cup buttermilk
1 egg
1/4 cup butter, melted
1/4 cup buttermilk

Into a large bowl sift together the flour, the baking powder, the salt, the baking soda, the margarine, and stir in the raisins and the caraway seeds. Stir in 1 cup of buttermilk and egg. Turn dough out onto a lightly floured surface and knead slightly. Form dough into a round and place on prepared baking sheet. In a small bowl, combine melted butter with 1/4 cup buttermilk; brush loaf with this mixture. Use a sharp knife to cut an 'X' into the top of the loaf. Bake in preheated 350°F oven for 45 to 50 minutes, or until a toothpick inserted into the center of the loaf comes out clean, about 30 to 50 minutes. You may continue to brush the loaf with the butter mixture while it bakes.

Irish Soda Bread I
Submitted by: Merribuck
6 cups all-purpose flour
2 teaspoons baking soda
2 teaspoons baking powder
3 tablespoons cornstarch
2 teaspoons sugar
1 teaspoon salt
2 1/2 cups buttermilk
Preheat oven to 375°F. Add all of the dry ingredients in a large bowl and mix very well. Pour all of the buttermilk into the bowl at once and stir, using a wooden sppon, just until a soft dough is formed. Do not try to make it smooth at this point. Pour the contents of the bowl out into a plastic counter and knead for a minute or so until everything comes together. Divide the dough into two portions and shape each into a round loaf, pressing the top down a bit to just barely flatten it. Place the loaves on a large ungreased baking sheet. (I like to use the nonstick kind.) Sprinkle some additional flour on the top of each loaf and, using a sharp paring knife, make the sign of the Cross in slashes on the top of each. Allow the loaves to rest for 10 minutes and then bake on the middle rack of the oven for 40 minutes, or until the loaves are golden brown and done to taste. Cool on racks.

Dark Irish Soda Bread
Submitted by: Merribuck
3 cups all-purpose flour
2 cups whole-wheat flour
2 teaspoons baking soda
1 tablespoon baking powder
2 tablespoons brown sugar
2-1/4 cups buttermilk

Proceed as in the recipe for Irish Soda Bread, being very careul to break up any lumps of brown sugar. Divide the dough into 2 loaves and bake at 400°F for about 45 minutes, or until borwn and crunchy. Cool on racks.

To submit your favorite recipes to be included in the Garden of Friendship Recipe Book, please email them to Barbiel
Background graphics made especially for the Recipes Committee of the Garden of Friendship by Valatine