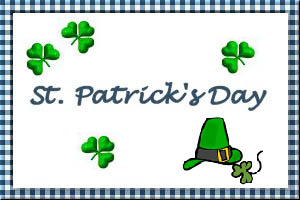 Machine Irish Soda Bread
Submitted by: Merribuck
2 1/2 teaspoons yeast
3 tablespoons buttermilk powder
3 cups white bread flour
1/2 teaspoon baking soda
1 teaspoon salt
2 tablespoons sugar
1 1/2 teaspoons caraway seeds
1/2 cup raisins
2 tablespoons butter, melted
1 cup warm water
Set your bread machine for white loaf, if applicable. Add all the ingredients except raisins to your bread machine container in the order stated. Raisins should be added after the first kneading. Follow machine manufacturer's instructions.

Irish Farmhouse Loaf
Submitted by: JoyC
8 oz flour
4 oz sugar
8 oz mixed dried fruit
1/2 grated rind of a lemon
2 tablespoon butter
1/2 teaspoon salt
2 teaspoon baking powder
1 pinch baking soda
1 egg, beaten
1 1/4 cups Buttermilk
Mix the flour, sugar, fruit, lemon rind, butter, baking powder and soda. Add the beaten egg and the buttermilk to make a nice soft dough; beat well and pour into a greased 2-pound loaf pan. Bake at 300°F for 1 hour, or until it tests done with a skewer. Makes 8 servings.

Rye Caraway Scones
Submitted by: Barbiel
1 cup all purpose flour
3/4 cup rye flour
2 tablespoons granulated sugar
2-1/2 teaspoons baking powder
2 teaspoons caraway seeds
1/2 teaspoon baking soda
1/4 teaspoon salt
1/3 cup unsalted butter chilled
2/3 cup buttermilk
1/2 cup currants (optional)
Preheat oven to 400°F. Butter a baking sheet. In a large bowl stir together the flour sugar baking powder caraway seeds baking soda and salt. Cut the butter into 1/2-inch cubes and distribute them over the flour mixture. With a pastry blender or two knives cut in the butter until the mixture resembles course crumbs. Stir the buttermilk into the flour mixture and knead until combined. With lightly floured hands pat the dough into 1/2-inch thickness on a lightly floured cutting board. Using a 2-1/2-inch diameter biscuit cutter or glass cut out rounds from the dough. Place the rounds on the prepared baking sheet and bake for 15-17 minutes or until lightly browned. Remove the baking sheet to a wire rack and cool for 5 minutes. Using a spatula transfer the scones to the wire rack to cool. Serve warm or cool completely and store in airtight container.

To submit your favorite recipes to be included in the Garden of Friendship Recipe Book, please email them to Barbiel
Background graphics made especially for the Recipes Committee of the Garden of Friendship by Valatine