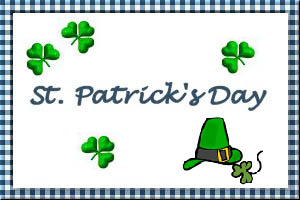 Aran Spiosrai
(Irish Spice Bread)
Submitted by: Jana
10 ounces flour
2 teaspoons baking powder
1/2 teaspoon baking soda
1 teaspoon mixed spice (equal parts of cinnamon, nutmeg and allspice)
1/2 teaspoon ginger, ground
4 ounces brown sugar, light
2 ounces candied citron, chopped
6 ounces raisins (plain or golden)
4 ounces butter
6 ounces Golden Syrup (see Note below)
1 large egg, beaten
4 tablespoons milk
Sift the flour with the soda and baking powder, and the mixed spice and ginger: then add the brown sugar, chopped peel and raisins. Mix. Make a well in the center. Melt the butter with the syrup over low heat, then pour into the well in the mixture. Add the beaten egg and milk and mix very well. Pour into a greased 2-lb loaf pan and bake in a preheated oven at 325░F for 40-50 minutes, or until it tests done. This bread will keep moist for several days, and actually improves somewhat during this period. Makes 8 servings.
Note: Golden Syrup, carried in some fancy groceries. If you can't find it, use Karo light corn syrup.

Cheese Scones
Submitted by: Barbiel
2 cups flour
3/4 cup grated sharp cheddar cheese
2 tespoons baking powder
1/4 teaspoon salt
1/4 butter, chilled, cut in pieces
1/2 cup milk
2 large eggs
3/4 teaspoon TABASCO brand Pepper Sauce
Preheat oven to 400║F. Mix flour, cheese, baking powder and salt in large bowl or food processor. Cut in butter, using paftry blender, two knives or pulsing motion in food processor, until mixture resembles coarse crumbs. If blended in food processor, transfer mixture to large bowl. Stir milk, eggs and TABASCO« brand Pepper Sauce in small bowl. Make a well in center of dry ingredients and add milk mixture, stir to combine (note: the dough will be sticky). Lightly butter baking sheet. With lightly floured hands, put dough into 9- inch circle in center of prepared baking sheet. Cut circle into 8 wedges. Bake scones 20 to 25 minutes or until lightly browned. Makes 8 scones.

Fiery Garlic Bagel Thins
Submitted by: Barbiel
5 bagels
1/2 cup butter
6 cloves garlic, minced
2 tablespoons lemon juice
1/2 teaspoons TABASCO brand Pepper Sauce
salt to taste
Preheat broiler. Slice bagels crosswise into fifths. In small saucepan, melt butter with garlic and simmer over very low heat 2 minutes or until garlic has softened. Add lemon juice, TABASCO« brand Pepper Sauce and salt to taste. Liberally brush one side of each bagel with lemon-garlic butter. Broil bagels on one side until golden. Watch carefully; this takes only a minute. Turn bagels over and broil until golden. Serve hot or store in an air-tight container. Makes 25 bagel thins.

To submit your favorite recipes to be included in the Garden of Friendship Recipe Book, please email them to Barbiel
Background graphics made especially for the Recipes Committee of the Garden of Friendship by Valatine