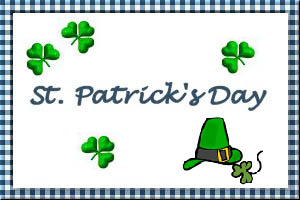 Gluten and Casein Free Old Fashioned Irish Soda Bread
Submitted by: Alice
1 package of "Pamela's Wheat-Free Bread Mix" (can get on Amazon or any specialty store)
1 tablespoon "Hain's Featherweight Baking Powder" (or other corn-free baking powder)
1/4 cup hot water added to 1/2 cup of chilled Almond milk * (unless the Almond milk is at room temperature–then add warm water)
3 eggs
1/4 cup organic sugar (more if you like sweet bread)
1/4 cup vegetable oil
1/2 cup raisins (or dried blueberries or cranberries if you are Feingold Stage 1)
up to 1/2 cup of additional white rice flour for kneading and shaping the loaf
In a separate bowl mix Pamela's package with the featherweight baking powder. Set aside. Whisk 3 eggs, yeast (included inside Pamela's package), warm water, almond milk, sugar and oil. Pour into bread machine and add flour. Set your machine to White Bread, Large Loaf, Dough. It should take about two hours for the machine to mix and rise the dough. If you do not have a bread machine follow Pamela's instructions for using a mixer and let rise for at least an hour. When the dough has risen and is ready to knead, take it out of the bread machine and put it on a sheet of floured wax paper for easy transfer (otherwise it will stick to the counter). Generously sprinkle the dough with additional rice flour as you knead it. The goal is to have a well-rounded loaf. I added the raisins while I was kneading, but if you'd like to add them earlier it would probably not matter. Unlike traditional soda bread, your dough will not get that elastic and firm consistency that you may be used to. It will also be a bit sticky even when it has been kneaded well. All this is quite fine. Place your bread in an oiled or no-stick round metal pie plate (and don't try to flatten it out or spread it). You are only using the pie plate to create added warmth for the bread while it bakes. Technically you could use a baking sheet instead. My mother-in-law uses a pie plate and so I have long since adapted that technique. Bake the loaf at 400°F for 40-50 minutes, depending on your oven. The crust needs to be browned and hard for good Irish Soda Bread. When it is done, take it out of the pie plate and immediately wrap it in a wet tea towel while it cools. This is an old Irish trick, and is an essential step for that perfect loaf. That's it! Now serve it with butter, margarine, or jam, and watch it disappear in minutes before your eyes.
Note: * You may substitute for rice milk.

Title
Submitted by:
Ingredients
Ingredients
Instructions

Title
Submitted by:
Ingredients
Ingredients
Instructions

To submit your favorite recipes to be included in the Garden of Friendship Recipe Book, please email them to Barbiel
Background graphics made especially for the Recipes Committee of the Garden of Friendship by Valatine