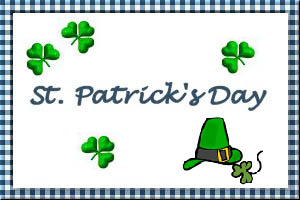 Green Cake
Submitted by: Barbiel
3/8 (18.25 ounce) package white cake mix
1 tablespoon and 3/4 teaspoon creme de menthe liqueur
3/8 (16 ounce) can chocolate syrup
3/8 (8 ounce) container frozen whipped topping, thawed
2 1/2 teaspoons Creme de Menthe liqueur
(or flavoring)
Prepare 1 box white cake mix as directed, except substitute 3 tablespoons Creme de Menthe flavoring or liqueur, for 3 tablespoons water. Pour into 13x9 inch pan and bake according to package directions. Remove from oven and while hot poke holes in cake with fork. Then pour chocolate syrup over the top. Refrigerate. After cooling, mix whipped topping with 2 tablespoons of creme de menthe and spread on cake. Keep refrigerated. Serves 6.
Note: Can be easily frozen!

Irish Breakfast Scones
Submitted by: CajunSue
2 1/2 cups flour
1/2 teaspoon salt
2 tablespoons butter
2 tablespoons sugar
2 teaspoons baking powder
1/2 cup raisins
7/8 cup milk
Preheat oven to 400°F. Sieve flour and salt into a bowl. Rub in the butter with your fingers or a pastry blender. Add the sugar, baking powder and raisins and mix together well. Add the milk and mix into a loose dough. Turn onto a floured board and knead until smooth (about 10 times). Roll out; cut the dough in half, then into quarters and then into eighths. Place on a lightly floured baking sheet, then brush the top of each scone with milk and sprinkle with sugar. Bake for 15 to 20 minutes. When done, transfer to a wire rack to cool. Makes one cake.

Irish Whiskey Pie
Submitted by: CajunSue
chocolate ready-to-use pie crust
1/4 cup Irish whiskey
1 envelope unflavored gelatin
1 tablespoon mint jelly
2 3/4 cups whipped topping
2 tablespoons sugar
2 eggs, separated
green food coloring
2/3 cup light cream
dash salt
Combine gelatin, 1 tablespoon sugar, and salt in saucepan. Beat egg yolk slightly. Add egg yolks, cream and whiskey to gelatin mixture. Cook over low heat, stirring constantly, until mixture thickens slightly. Stir in mint jelly. Chill until mixture begins to thicken.Beat egg whites to soft peaks. Beat in remaining sugar until mixture holds a stiff peak. Fold meringue and 2 cups whipped topping into custard mixture. Add green food coloring to desired shade. Turn into crust. Garnish withremaining whipped topping and refrigerate until firm. Let stand at room temperature for 2 hours before cutting. Makes one pie.

To submit your favorite recipes to be included in the Garden of Friendship Recipe Book, please email them to Barbiel
Background graphics made especially for the Recipes Committee of the Garden of Friendship by Valatine