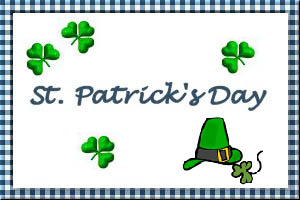 Irish Cream Cake
Submitted by: LisaW
1 package chocolate cake mix
1 package (4 serving size) chocolate instant pudding and pie filling mix
4 large fresh eggs
1 cup Irish Cream liqueur
1/2 cup cold water
favorite Icing (optional)
Preheat oven to 350F. Grease and flour two 9" cake pans. Combine all ingredients together in large bowl and blend well with electric mixer for about 2 minutes. Pour into pans and bake 30 minutes or until cake tests done. Cool 10 minutes and remove from pans. Finish cooling and serve plain or topped with whipped topping.
Note: These two layers can be split into four layers and then iced and filled with your favorite icing to make a delicious torte.

Chocolate Malt Tartlets
Submitted by: KatS
1 quart vanilla or chocolate ice cream
3/4 cup crushed malted milk balls,divided
4 (4 inch) graham cracker tartlet shells
3 tablespoons chocolate malted milk powder
3 tablespoons marshmallow creme
1 tablespoon milk
1 cup whipping cream, whipped
Let ice cream stand at room temp. for about 5 minutes ( to slightly soften) spoon into a bowl and stir until creamy. Add 1/2 cup crushed malted milk balls and mix well. Spoon ice cream mixture into tarlet shells, smooth tops. freeze covered until firm about 10 minutes. (can be frozen for up to two weeks at this point) Blend malted milk powder, marshmallow creme and milk in a medium bowl. Gently fold in whipped cream. Spread whipped cream mixture over tarlets, covering completely sprinkle with remaining crushed malt balls. keep in freezer until ready to serve.
Variation: Substitute crushed peppermint candy for malt balls, and 1 teaspoon peppermint extract for malted milk powder.

Irish Whiskey Cake I
Submitted by: Barbiel
8 ounces raisins
grated rind of 1 lemon
150 ml Whiskey
6 ounces softened butter
3 eggs
6 ounces soft brown sugar
6 ounces plain flour
1 pinch salt
1 pinch ground cloves
1 teaspoon baking powder
Icing (see below)
Put the raisins and grated lemon rind into a bowl with the Whiskey and leave overnight to soak. Grease a 7-inch cake pan, and line the bottom with parchment; preheat oven to 350°F. Cream the butter and sugar until light and fluffy. Separate the eggs and sift the flour, salt, cloves and baking powder into a bowl. Beat the yolks into the butter and sugar one by one, including a spoonful of flour and beating well after each addition. Gradually add the Whiskey and raisin mixture, alternating with the remaining flour. Do not overbeat at this stage. Finally, whisk the egg whites until stiff and fold them into the mixture with a metal spoon. Turn into the prepared pan and bake in the preheated oven for about 1 1/2 hours, or until well risen and springy to the touch (or test with a skewer: when it comes out clean, the cake's ready). Turn out and cool on a wire rack. Make the Icing.
Icing:
juice of one lemon
confectioners' sugar enough to make consistence
warm water as needed
crystallized lemon slices
Mix the lemon juice with the sieved confectioners' sugar and just enough water to make a pouring consistency. Put a dinner plate under the cake rack to catch the drips, and pour the Icing over the cake a tablespoonful at a time, letting it dribble naturally down the sides. Don't worry if a lot of it ends up on the plate underneath - just scoop it up and put it on top again. When the Icing has set, it can be decorated with crystallized lemon slices if you like.

To submit your favorite recipes to be included in the Garden of Friendship Recipe Book, please email them to Barbiel
Background graphics made especially for the Recipes Committee of the Garden of Friendship by Valatine