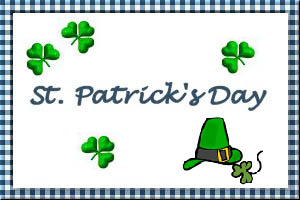 Irish Potato Candy
Submitted by: Sugie

1/4 cup butter, softened
4 ounces cream cheese
1 teaspoon vanilla extract
4 cups confectioners' sugar
2 1/2 cups flaked coconut
1 tablespoon ground cinnamon
In a medium bowl, beat the butter and cream cheese together until smooth. Add the vanilla and confectioners' sugar; beat until smooth. Using your hands, mix in the coconut. Roll into balls or potato shapes, and roll in the cinnamon. Place onto a cookie sheet and chill to set. If desired, roll potatoes in cinnamon again for darker color. Makes 5 dozen.
Note: A cute little confection that looks just like little potatoes. This kind does not contain potatoes; they are made using cream cheese and coconut.

Irish Cream Truffle
Submitted by: Sugie
3 cups semisweet chocolate chips
1 cup white chocolate chips
1/4 cup butter
3 cups confectioners' sugar
1 cup Irish cream liqueur
1 1/2 cups chopped nuts
1 cup semisweet chocolate chips
1/2 cup white chocolate chips
4 tablespoons Irish cream liqueur
2 tablespoons butter
Butter a 8x8 inch pan. In the top half of a double boiler melt the 3 cups semisweet chocolate chips, 1 cup white chocolate chips and 1/4 cup butter until soft enough to stir. Stir in the confectioner's sugar and Irish cream until mixture is smooth. Stir in nuts. Place mixture in the prepared pan and lay a sheet of plastic wrap over top; press and smooth top down. In the top half of a double boiler melt remaining chocolates until soft. Remove from heat and with a fork beat in the butter and Irish cream until smooth. Spread topping over cooled fudge with a knife. If a smooth top is important place plastic wrap over the top. Refrigerate until firm, 1 to 2 hours at least. This fudge can be easily frozen. Makes 24 pieces.

Irish Flag Cookies
Submitted by: Barbiel
1 cup butter
1 1/2 cups confectioners' sugar
1 egg
1 teaspoon vanilla extract
2 1/2 cups all purpose flour
1 teaspoon baking soda
1 teaspoon cream of tartar
Irish Flag Frosting (recipe below)
In a large bowl, cream together butter and confectioners' sugar. Beat in egg and vanilla extract. Mix well. In a medium sized bowl, stir together the flour, baking soda and cream of tartar. Blend into the butter mixture. Divide dough into thirds and shape into balls. Working with 1/3 of the dough at a time, roll out dough to 1/4 inch thick on a floured surface. With a knife, cut dough into rectangles about 2 inches high by 3 inches long. (6 x 8 cm). Place rectangles on an ungreased cookie sheet, 2 inches apart. Bake in a preheated 350°F (175°C) oven until lightly browned. Cool completely on wire rack. Frost cookies with Irish Flag Frosting. Make a 1 inch green stripe on the the left side of the rectangles and a 1 inch orange strip on the right side, leaving the middle one inch unfrosted. Makes 3 dozen.
Irish Flag Frosting:
1 cup sifted confectioners' sugar
1/4 teaspoon salt
1/2 teaspoon vanilla extract
1 tablespoon water
2 drops orange food coloring
2 drops green food coloring
Blend confectioners' sugar, salt and vanilla. Add just enough water to make frosting easy to spread. Divide frosting into 2 small bowls. Add 2 drops of orange food coloring to one bowl and 2 drops of green food coloring to the other bowl. Mix each until the colors are even. Frost 1 inch of the left side of each Irish Flag Cookie with the Irish Flag Frosting and 1 inch of the right side of the cookies with the orange frosting, leaving the middle inch unfrosted.

To submit your favorite recipes to be included in the Garden of Friendship Recipe Book, please email them to Barbiel
Background graphics made especially for the Recipes Committee of the Garden of Friendship by Valatine