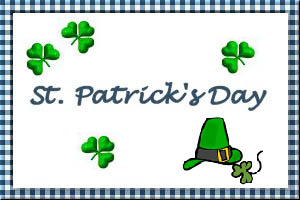 Irish Shamrock Cookies
Submitted by: Barbiel
1/2 cup butter, softened
1 (3 ounce) package instant pistachio pudding mix
1 1/3 cups baking mix
1 egg
1 tablespoon white sugar
Green Colored Icing (recipe below)
Preheat oven to 350°F (175°C). Lightly grease baking sheet. Cream together the butter or margarine and the pudding mix. Blend in the baking mix, egg and sugar and mix well. On a lightly floured surface roll out the dough to 3/8 inch thickness and cut into cookies with a shamrock cookie cutter. Place cookies on the prepared baking sheet and bake at 350°F (175°C) for 9 to 10 minutes or until lightly browned on the edges. Let cookies cool on rack. Frost with Green Colored Icing if desired. Makes 1 1/2 dozen.
Green Colored Icing:
3/4 cup confectioners' sugar
3 1/2 teaspoons milk
1/4 teaspoon vanilla extract
3 drops green food coloring
Stir together confectioner's sugar, milk, vanilla extract and 3 or 4 drops green food color, if desired, in small bowl until of drizzling consistency. Drizzle over top of cookies.

Mini-Kissed Shamrock Cookies
Submitted by: CajunSue
1 package (22.3 oz.) golden sugar cookie mix
2/3 cup Hershey's cocoa
1/3 cup vegetable oil
2 eggs, slightly beaten
1 tablespoon plus 1 teaspoon water
Hershey's Mini Kisses chocolate baking pieces
InstructionsHeat oven to 350º F. Combine cookie mix and cocoa in large bowl; stir. Add oil, eggs and water; mix with spoon or fork until well combined. Dough will clump together and be easy to handle. Shape dough into balls, using about 1 level measuring teaspoon of dough for each ball. Cluster 4 balls together on ungreased cookie sheet to form shamrock; flatten each "leaf" just slightly. For stem, shape 1 ball into pencil shape. Tuck stem under bottom of shamrock leaves. Bake 7 to 8 minutes or until set. Cool slightly; remove from cookie sheet to wire rack. Cool completely. Outline shamrock and stem with Shamrock Frosting (recipe below). Place small amount frosting in center of cookie. Press Mini-Kiss in center. Makes about 30 cookies.
Shamrock Frosting
1 tablespoon butter or margarine, softened
1 cup powdered sugar
1 tablespoon hot milk or light cream
1/2 teaspoon vanilla extract
2 or 3 drops green food color
Mix all ingredients well until smooth.

Currant Squares
Submitted by: Barbiel
Flaky Pastry
140 grams/ 5 ounces firm butter or margarine, grated
175 grams/ 6 ounces flour
pinch salt
iced water
Filling
110 grams/ 4 ounces butter
80 grams/ 3 ounces sugar
225 grams/ 8 ounces currants
pinch spice
1 lemon, rind and juice
1 large apple, grated
1 slice bread, crumbled
Pastry: freeze butter or margarine for half an hour before grating. Sift flour and salt, then add butter or margarine. Mix into flour with palette knife. Add iced water until a dough is formed. Wrap and chill in fridge. Put all filling ingredients into a saucepan and bring to boiling point. Set aside to cool. Preheat oven to 400°F (200°C). Roll out half the pastry very thinly and line a Swiss roll tin. Pour on currant filling, spreading evenly, then cover with the rest of the pastry. Glaze with egg or milk and bake for 30 minutes or until light gold in color. Dust with caster sugar and cut into squares when cool. Makes 20 squares.

To submit your favorite recipes to be included in the Garden of Friendship Recipe Book, please email them to Barbiel
Background graphics made especially for the Recipes Committee of the Garden of Friendship by Valatine