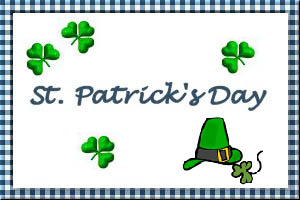 Irish Mashed-Potato Candies
Submitted by: Molly
1/2 cup mashed potatoes or yams
1/2 teaspoon Vanilla extract
1 lb. sifted confectioners sugar
2 tablespoons ground cinnamon
Mix mashed potatoes or yams and vanilla extract until combined. Starting with 1 cup, gradually blend in enough sugar to form a stiff, nonsticky dough. (The potatoes' moisture content will determine how much sugar is absorbed). One teaspoonful at a time, form the potato-sugar mixture into irregular spheres (to resemble new potatoes). Set them on waxed-paper-lined trays to dry slightly before coating. Toss candies, a few at a time, in a small plastic bag with ground cinnamon to coat. Shake off the excess. Cover. Store in a cool, dry place.

Irish Cream Mint Cookies
Submitted by: BettyG
1 1/4 cups quick cooking oats
1 1/2 cups flour
1 teaspoons baking powder
1 teaspoon baking soda
3/4 teaspoon salt
1 cup margarine, softened
1 cup brown sugar
1/2 cup sugar
1 large egg
1/4 cup Irish cream liqueur
1 teaspoon Vanilla extract
12 oz mint flavored chocolate chips
Heat oven to 350°F. Have baking sheets ready. Place oats in a blender. Cover and blend until like flour. Mix oats, flour, baking powder, baking soda and salt. Beat margarine, brown sugar and sugar in a large bowl with electric mixer until fluffy. Beat in egg, liqueur and Vanilla.On low speed, gradually beat in flour mixture. Stir in chocolate chips (chill 15 to 20 minutes if very soft). Drop by heaping teaspoonfuls about 2 inches apart onto baking sheets. Bake 10 to 12 minutes until cookies look dry on top and edges are lightly browned. Cool on baking sheets 2 minutes. Remove to wire racks to cool. Makes 48 cookies.

Title
Submitted by:
Ingredients
Ingredients
Instructions

To submit your favorite recipes to be included in the Garden of Friendship Recipe Book, please email them to Barbiel
Background graphics made especially for the Recipes Committee of the Garden of Friendship by Valatine