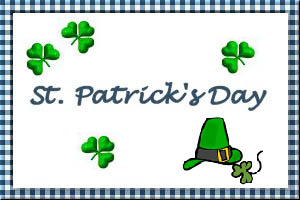 Bailey's Irish Cream
Submitted by: Jezebel Jen
14-ounce can evaporated milk
14-ounce can condensed milk
2 teaspoons glycerine
1/2 to 1 tablespoon coffee powder
1 1/2 cups Irish whiskey
1 tablespoon water
1 teaspoon vanilla extract

Whisk everything together for 10 minutes and serve.

Irish Coffee
Submitted by: Jezebel Jen
1 ounce of Irish Whiskey
1 teaspoon of sugar
1 heaped tablespoon of whipped cream
Hot strong coffee to fill the glass
Pre-warm a stemmed glass. Add the whiskey. Add the sugar and stir in the coffee. Float the whipped cream on top. Drink the coffee through the cream (do not stir after adding the cream).

Homemade Bailey`s Irish Cream
Submitted by: Merribuck
1 can sweetened condensed milk
1/2 pint whipping cream
3 eggs
3 tablespoons chocolate syrup
1/2 teaspoon coconut extract
1/2 teaspoon vanilla extract
10 ounces irish whiskey (or vodka)
Mix all ingredients in blender and refrigerate. Shake before using.
To submit your favorite recipes to be included in the Garden of Friendship Recipe Book, please email them to Barbiel
Background graphics made especially for the Recipes Committee of the Garden of Friendship by Valatine