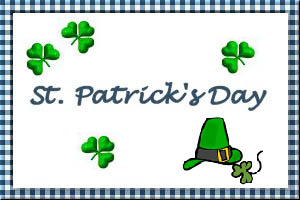 Irish Mist
Submitted by: SueW
1 3/4 cup liquor (Irish Whiskey, brandy, rum, bourbon, Scotch or rye)
1 14-ounce can Eagle Brand sweetened condensed milk
1 cup light cream
4 eggs, only clean, uncracked eggs
2 tablespoons chocolate flavored syrup
2 teaspoons instant coffee
1 teaspoon vanilla extract
1/2 teaspoon almond extract
Combine all ingredients in blender, blend until smooth. Serve over ice if desired. Store tightly covered in refrigerator up to one month. Stir or shake before serving.

Creamy Irish Coffee
Submitted by: Wolfmama
4 cups strong fresh coffee
1/4 cup Suga
1/2 cup Irish whiskey
1 cup whipping cream
2 tablespoons sugar
2 tablespoons Irish whiskey
Place 4 cups of strong fresh coffee in a saucepan with 1/4 cup of sugar, or to taste. Add 1/2 cup Irish Whiskey and heat thoroughly but do not boil. (Scotch, Bourbon or other whiskeys could be used). Meanwhile whip 1 cup whipping cream until light. Beat in 2 tablespon each of sugar and Irish whiskey. 5. Pour coffee into mugs or goblets and pipe or spoon flavoured cream on top. Makes 4 servings.

Irish Whisky Cocktail
Submitted by: Wolfmama
1/2 teaspoon curacao
1/2 teaspoon absinthe substitute
1/4 teaspoon maraschino
1 dash bitters
2 ounces Irish whiskey
olives and cracked ice
Stir well all ingredients with cracked ice and strain into 3 ounce cocktail glass. Serve with an olive. Serves 4.

To submit your favorite recipes to be included in the Garden of Friendship Recipe Book, please email them to Barbiel
Background graphics made especially for the Recipes Committee of the Garden of Friendship by Valatine