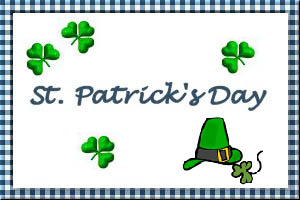 Irish Coffee I
Submitted by: Wolfmama
1 1/2 ounces Irish whiskey
8 ounces hot coffee
1 dash creme de menthe
1 maraschino cherry
dessert topping, pressurized
1 teaspoon brown sugar to taste
Pour Irish whiskey into a coffee mug. Fill with black coffee and brown sugar and stir until sugar is dissolved. Spray a generous amount of whipped dessert topping (the canned, pressurized topping is easiest to use) on top of the coffee. Trickle creme de menthe to form green stripes on the whipped topping and place the cherry on top. Serve immediately.

Flaming Irish Coffee
Submitted by: Wolfmama
3/4 cup Irish Mist liqueur, divided
6 cups hot coffee, divided
2 tablespoons sugar, divided
1/2 cup whipping cream, whipped
ground nutmeg
Rinse glass with hot water; dry. Pour 2 tablespoons Irish Mist into glass. Rotate over flame of Irish coffee burner or alcohol burner until liqueur ignites.Fill with coffee; stir in 1 teaspoon sugar. Top with whipped cream; dust with nutmeg. Repeat for each serving. Yield: 6 servings.
Note: When you make Flaming Irish Coffee or other beverages in which liqueur is heated in the container, select containers that are strong enough to withstand the heat. You'll find several styles made specifically for Irish coffee; many include burners as well.

Godiva Irish Freeze
Submitted by: Jana
1 1/2 ounces Godiva Liqueur
3/4 ounce Irish Cream Liqueur
Combine over crushed ice in a snifter or rocks glass.

To submit your favorite recipes to be included in the Garden of Friendship Recipe Book, please email them to Barbiel
Background graphics made especially for the Recipes Committee of the Garden of Friendship by Valatine