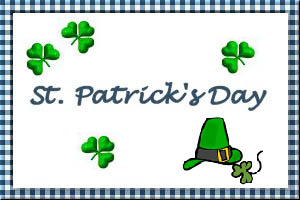 Glazed Corned Beef
Submitted by: Sugie
4 1/2 pounds corned beef, rinsed
1 cup water
1 cup apricot preserves
4 tablespoons brown sugar
2 tablespoons soy sauce

Preheat oven to 350 degrees. Coat a large pan with non-stick cooking spray. Place corned beef in dish and add water. Cover tightly with aluminum foil and bake for 2 hours; drain liquid. In a small bowl combine apricot preserves, brown sugar, and soy sauce. Spread the apricot mixture evenly over the corned beef. Bake uncovered at 350 degrees 25 to 30 more minutes, or until the meat is tender; basting occasionally with pan drippings. Slice corned beef across grain and serve. Makes 7 servings.
Note: The apricot sweet sauce really brings out the flavor in the corned beef. It is great to serve the sauce over cooked carrots also!

Salmon Potato Gratin
Submitted by: Jezebel Jen
2 pounds potatoes, peeled, thinly sliced
4 tablespoons butter, divided
1 medium onion, peeled and grated
4 clove garlic, crushed
1/2 teaspoon salt
1/2 teaspoon ground black pepper
3/4 pound cooked salmon, flaked
2 cups shredded Gruyère cheese
1/4 cup grated Parmesan cheese

Place potato slices in a bowl of ice water. Melt 3 tablespoons butter in a medium skillet over medium heat. Add onion, garlic, salt, and pepper. Sauté until onion is transparent; remove from heat and set aside. Preheat oven to 375 degree. Grease a 2-quart baking dish. Drain potatoes and layer in baking dish alternately with onion mixture, salmon, Gruyère cheese and Parmesan cheese, ending with potato slices. Dot with remaining 1 tablespoon butter. Cover dish with aluminum foil and bake for 30 minutes. Remove foil and continue to bake until the potatoes are tender, approximately 15 minutes. Set aside for 10 minutes to allow cheese to set. Serves 6.

Corned Beef and Cabbage
Submitted by: Jezebel Jen
1 5-pound corned beef
1 bottle light beer
20 small, firm red potatoes
2 small white cabbages (quartered)
Place the corned beef in a saucepan with cold water and excess liquid and seasonings from the pack. Bring to a boil. Add the beer and turn the heat down to simmer for two hours, with lid loosely covering pan. Add the lightly scrubbed potatoes, and cook for 45 minutes. Add the quarters of cabbage and cook for 20 minutes. Take out the corned beef and let it settle for five minutes. Then slice it on an angle (against the grain), and place on a warm platter. Keep warm. Strain the potatoes and cabbage, and place around the corned beef. Serve with mustard of your choice.

To submit your favorite recipes to be included in the Garden of Friendship Recipe Book, please email them to Barbiel
Background graphics made especially for the Recipes Committee of the Garden of Friendship by Valatine