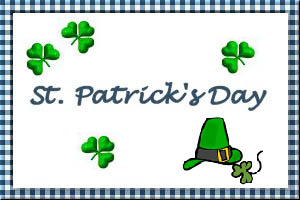 Irish Stew I
Submitted by: CajunSue
1 1/2 pounds lean boneless lamb shoulders
(cut in 3/4-inch cubes)
12 fl. ounces beer or water
2 14 oz. cans broth
3 cups cubed potatoes
2 cups thinly sliced carrots
1 tablespoon olive oil
1 onion, coarsely chopped
1 teaspoon pepper
1 envelope brown gravy mix
parsley, chopped, for garnish
In 3-quart pan with cover, heat oil. Add onion and sauté until brown; stirring occasionally. Add lamb and sauté, stirring until browned. Stir in beer or water and pepper. Cover and simmer for 30 minutes. Mix in broth and gravy mix. Add potatoes and carrots, cover and simmer for 15 to 20 minutes or until vegetables are tender. Garnish with chopped parsley if desired. Serves 4.

Irish Stew with Mint Sour Cream
Submitted by: Cookie
12 ounces lean boneless lamb cut into 1 inch cubes
2 cups beef broth
1/4 teaspoon salt
1/8 teaspoon pepper
1 bay leaf
3 medium potatoes, peeled and cut into 1 inch cubes
2 medium onions, cut into wedges
1 1/2 cups sliced carrots
1 teaspoon dried thyme
1 teaspoon dried basil
1/2 cup cold water or beer
2 tablespoons all purpose flour
1/3 cup dairy sour cream
2 teaspoon snipped fresh mint
In a large saucepan or Dutch oven combine lamb. broth, salt, pepper, and bay leaf. Bring to boiling; reduce heat. Cover and simmer for 30 minutes. Skim off fat. Add potatoes, onions, carrots, thyme and basil. Cover and simmer 30 minutes more or until vegetables are tender. In a small bowl stir beer into flour. Stir into meat mixture. Cook and stir until thickened and bubbly. Cook and stir 1minute more. To serve, stir together sour cream and mint. Dollop on each serving.

Beef and Guinness Stout Casserole
Submitted by: Barbiel
1-1/2 pounds (675 grams) beef, cubed
6 ounces (180 grams) lean bacon, cubed
1 tablespoon vegetable oil
1 pound (450 grams) shallots or small onions
3 cloves garlic
1 tablespoon sugar
salt to taste
pepper to taste
dried basil
dried parsley
1 tablespoon butter or margarine
2 tablespoons flour
1 bottle Guinness Stout
1 tablespoon wine or cider vinegar
Sauté the beef and bacon in a little oil until browned. Drain off the excess liquid and remove the meat and set aside. Add the butter to the pan, and melt. Stir in the flour to make a roux. Gradually stir in the Guinness Stout. Place the meat and the small onions in a deep casserole dish, and season with the salt, pepper and herbs. Crush the garlic and add to the ingredients. Sprinkle the sugar on top, and pour in the sauce. Cover the casserole and place in the oven. Cook very gently for up to 3 hours at 300°F (150°C). Check occasionally. If the casserole seems to be drying a little, you can add more Guinness. Remove from the oven and mix in the vinegar. Serve with lots of boiled potatoes to sop up the sauce. Makes 4 servings.

To submit your favorite recipes to be included in the Garden of Friendship Recipe Book, please email them to Barbiel
Background graphics made especially for the Recipes Committee of the Garden of Friendship by Valatine