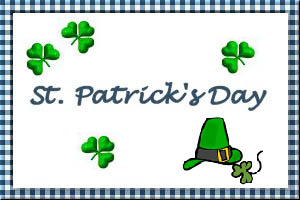 Steak and Guinness Pie
Submitted by: Lady Seanna
pie pastry for double 10 - 12 inch pie
2 pounds round steak
1 tablespoon flour
1 tablespoon brown sugar
1 tablespoon raisins
5 small onions
1 bottle Guinness stout
8 slices bacon
3 tablespoons shortening
chopped parsley
For double crust pie in a deep pie dish. Cut the steak into bite sized cubes, roll in seasoned flour and brown in the shortening with the bacon, chopped small. Place meat in a casserole, peel and chop the onions and fry until golden before adding them to the meat. Add the raisins and brown sugar, pour in the Guinness, cover tightly and simmer over low heat or in a very moderate oven (325-350°F) for 2 1/2 hours. Stir occasionally, and ad a little more Guinness or water if the gravy gets to thick. Meanwhile, line a deep pie dish with half the pie crust; and bake it. Then add the Guinness/beef mixture from the casserole, cover with top layer of pie crust and bake for 10 more minutes.

Grilled Steak with Garlic and Hot Pepper Marinade
Submitted by: Vadi
8 New York strip steaks, 10 ounces each
salt and pepper to taste
Place the steaks in a shallow bowl and cover with 3/4 of the marinade (refrigerate the remainder). Let marinate, refrigerate, for two days, turning once after the first day. Prepare a grill or preheat the broiler. Bring the extra marinade to room temperature. Remove excess marinade from the steaks and season them on both sides to taste with salt and pepper. Grill or broil to your liking, or about 4 minutes on each side for medium rare. Slice the steaks and place on a large serving platter. Spoon the remaining marinade around the steaks. Serve with Garlic and Hot Pepper Marinade. Yields 8 servings.
Garlic and Hot Pepper Marinade
8 cups pure Olive oil
1 head garlic clove, smashed
1 red bell pepper, roasted, quartered, peeled and seeded, coarsely chopped
1 yellow bell pepper, roasted, quartered, peeled and seeded, coarsely chopped
1 poblano pepper, roasted, quartered, peeled and seeded, coarsely chopped
1 bunch of parsley
4 whole New Mexico red chiles, coarsely chopped
4 whole ancho chiles, coarsely chopped
Combine all the ingredients in a mixing bowl. May be refrigerated up to one day before using. Makes about 4 cups.

Beef Fillet with Shallots and Guinness
Submitted by: Lady Seanna
2 tablespoons Olive oil
600 g beef fillet
12 shallots, peeled
2 red onions, sliced
1 tablespoon tomato puree
3 garlic cloves, peeled
400 ml Guinness
3 sprigs of thyme
salt and freshly ground pepper
25 g butter
1 tablespoon flour
mashed potato, to serve
2 tablespoons chives, chopped, to garnish
Heat a frying pan until hot. Add in half a tbsp of Olive oil and heat through. Add in the beef and sear on both sides. Heat the remaining olive oil in a casserole dish. Add in the shallots, red onion, tomato puree and garlic and fry, stirring often, until lightly browned. Add in the beef fillet, Guinness and thyme. Season with salt and freshly ground pepper. Bring to the boil, reduce the heat and simmer for 20 minutes. Remove the beef fillet and set aside to rest, keeping warm. Bring the Guinness mixture to the boil. Meanwhile, rub the butter and flour together until well-mixed. Add the butter mixture to the sauce in little pieces at a time, stirring it in until absorbed to thicken the sauce. Serve the beef with mashed potato, garnished with chives, and spoon around the liquor.

To submit your favorite recipes to be included in the Garden of Friendship Recipe Book, please email them to Barbiel
Background graphics made especially for the Recipes Committee of the Garden of Friendship by Valatine