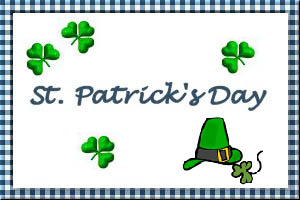 Beef and Guinness Stew
Submitted by: Merribuck
Recipe Courtesy: Food Network
2 pounds stewing beef
3 tablespoons oil
2 tablespoons flour
salt and freshly ground black pepper
pinch of cayenne
2 large onions, coarsely chopped
1 garlic clove, crushed
2 tablespoons tomato puree, dissolved in 4 tablespoons water
1 1/4 cups Guinness
2 cups largely diced carrots
sprig of fresh thyme
chopped parsley for garnish
Trim the meat of any fat or gristle, and cut into 2-inch cubes. Toss beef with 1 tablespoon of the oil. In a small bowl, season the flour with salt, pepper, and cayenne. Toss meat with seasoned flour. Heat remaining 2 tablespoons oil in a large skillet over high heat. Brown the meat on all sides. Reduce the heat, add the onions, crushed garlic and tomato puree to the skillet, cover, and cook gently for 5 minutes. Transfer the contents of the skillet to a casserole and pour half of the Guinness into the skillet. Bring Guinness to a boil and stir to dissolve the caramelized meat juices on the pan. Pour over the meat along with the remaining Guinness. Add the carrots and thyme. Stir and adjust seasonings. Cover the casserole and simmer over low heat, or in a 300°F oven until the meat is tender, 2 to 3 hours. Garnish the beef with parsley and serve. Makes 4-6 servings.

Cheese Strata with Ham and Tomatoes
Submitted by: Merribuck
Recipe Courtesy: Food Network
1 teaspoon plus 1 tablespoon unsalted butter
12 large eggs
1 1/2 cups milk
1/2 cup heavy cream
pinch freshly grated nutmeg
pinch cayenne pepper
1 teaspoon kosher salt
1/4 teaspoon freshly ground black pepper
1 cup diced baked ham
Strata (see below how to make it)
1 cup Oven-Dried Tomatoes, chopped (recipe below)
1 tablespoon minced flat-leaf parsley leaves
1 1/2 teaspoons thinly sliced fresh chives
2 cups shredded extra-sharp cheddar cheese (about 8 ounces)
1 pound sourdough bread (boule preferred), crust removed
and cut into 1-inch cubes
Grease a 3-quart gratin dish or casserole with 1 teaspoon of the butter. In a large bowl, whisk together the eggs, milk, cream, nutmeg, cayenne, salt, and pepper. Set aside. In a small bowl, toss together the ham, tomatoes, parsley, and chives.
Strata:
Scatter a 1/2 cup of the cheese over the bottom of the buttered dish, cover with one-third of the bread, and then half of the tomato mixture. Repeat. Top with a final layer of bread and remaining cheese.Pour the egg mixture over the strata and gently press it down with the back of a large spoon to make sure the top layer is moistened with the custard. Melt the remaining 1 tablespoon of butter and drizzle it over the strata. Cover with plastic wrap and refrigerate overnight. Preheat the oven to 350°F. Bake the Strata, uncovered, until golden brown and slightly puffed, about 45 to 55 minutes. Let rest 10 minutes before serving. Yield: 6 to 8 servings.
Oven-Dried Tomatoes
2 pounds ripe plum tomatoes, cored and cut in half lengthwise
1 1/2 teaspoons kosher salt
extra-virgin Olive oil (optional)
fresh herb sprigs, like thyme, rosemary, or sage (optional)
Preheat oven to 250°F. Arrange the tomatoes cut side-up in a single layer on a baking sheet. Sprinkle with the salt. Dry in oven until slightly shriveled but still plump, about 5 to 6 hours. If not using immediately, store the tomatoes in a sealed container in the refrigerator, for 3 to 4 days. Alternatively, layer them in a container with the herbs, cover with Olive oil, and store, covered, in the refrigerator, for up to 2 weeks. Yield: about 2 cups.

Salmon and Spinach Terrine
Submitted by: Barbiel
4 cups packed fresh spinach leaves
1 pound cod, skinned and boned
1 cup dried bread crumbs
3 eggs
1 1/4 cups light cream or half-and-half
one 12-ounce fresh salmon fillet, boned and skinned
1/2 teaspoon ground nutmeg
salt and freshly ground pepper to taste
mixed salad greens for serving
cherry tomatoes for garnish
Preheat the oven to 350°F. Blanch the spinach in boiling salted water until the leaves are limp, 1 to 2 minutes. Drain and plunge into cold water. Drain again and squeeze spinach dry. Transfer the spinach to a blender or food processor. Add the cod, bread crumbs, eggs, and cream or half-and half and process until smooth. Line an 8 by 3-3/4 by 2-1/2 inch glass loaf pan with aluminum foil and brush lightly with cooking oil. Spoon half the spinach mixture into the pan. Cut the salmon into 1/2 inch thick crosswise slices. Lay the slices of salmon on top of the spinach mixture and sprinkle with nutmeg, salt, and pepper. Spoon the remaining spinach mixture over the top. Cover with another piece of greased foil, place the loaf pan in a baking dish, and add hot water to come two thirds up the sides of the loaf pan. Bake for 1-1/4 hours. Remove both pans from the oven and let the terrine cool in the water bath for 2 to 3 hours. Remove from the water bath and refrigerate for at least 12 hours or up to 24 hours. To serve, loosen the sides of the terrine with a warm knife and unmold onto a serving plate. Cut into 8 slices and serve over a bed of mixed greens garnished with cherry tomatoes. Serves 8 as a first course or a luncheon dish.

To submit your favorite recipes to be included in the Garden of Friendship Recipe Book, please email them to Barbiel
Background graphics made especially for the Recipes Committee of the Garden of Friendship by Valatine