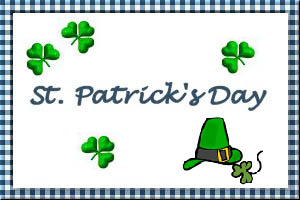 Saint Patty's Dill Dip
Submitted by: Barbiel
1/2 cup mayonnaise
1/2 cup sour cream
1 teaspoon dried dill weed
1 teaspoon seasoning salt
1/4 teaspoon onion salt
1/2 teaspoon Worcestershire sauce
1 tablespoon dried minced onion
1 tablespoon dried parsley
1/2 teaspoon monosodium glutamate
1/4 teaspoon hot pepper sauce
1 large green bell pepper
4 - 6 baked potatoes
In a medium-size mixing bowl, combine mayonnaise, sour cream, dill weed, seasoning salt, onion salt, Worcestershire sauce, onion flakes, parsley flakes, monosodium glutamate, and hot pepper sauce. Cover and chill for at least 2 hours. To serve slice off top of green pepper and gently clean out insides, spoon dip into pepper and sprinkle with dill weed. Makes 4-6 servings.
Note: To be served with baked potatoes.

Angels on Horseback
Submitted by: Barbiel
12 slices of Shannon Traditional Regular Bacon
24 oysters.
Cut each slice of bacon across in two. Stretch the pieces by placing them flat on a board and stretching them with the back of a knife. Place one oyster on each bacon slice and wrap up. Secure with cocktails or skewers. Grill under a medium heat, turning frequently, until the bacon is crisp. Drain on kitchen paper. Serve plain or on rounds of hot buttered toast. Serves 6.

Champ
Submitted by: Barbiel
4 lb. potatoes
1/2 lb. spring onions (scallions)
1/2 cup milk
2 teaspoons salt
4 oz. butter
Peel and boil potatoes until cooked. Simmer the spring onions in milk for about 5 mins. Strain potatoes and mash. Add the hot milk and scallions, salt, pepper and half the butter and mix in. Serve on its own or as an accompliment.

To submit your favorite recipes to be included in the Garden of Friendship Recipe Book, please email them to Barbiel
Background graphics made especially for the Recipes Committee of the Garden of Friendship by Valatine