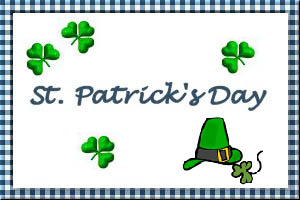 Irish Coffee Ice Cream
Submitted by: Cookie
1 cup sugar
1 envelope unflavored gelatin
4 cups half and half or light cream
3 beaten eggs
1/4 instant coffee crystals
1/4 cup Irish Cream Liqueur
In a large saucepan combine sugar and gelatin. Stir in half and half. Cook and stir over medium heat until mixture almost boils and sugar dissolves. Remove from heat. Stir about 1 cup of the hot mixture into beaten eggs; return all to saucepan. Cook and stir for 2 minutes or until slightly thickened. Do not boil. Stir in instant coffee and liqueur. Cool Transfer the mixture to a 4 quart ice cream maker and freeze according to machine directions. Or transfer mixture to a 9x9x2 baking pan. Cover and freeze 2 to 3 hours or until almost firm. Break frozen mixture into chunks. Transfer to a chilled bowl. Beat with an electric mixer until smooth but not melted. Return to pan. Cover and freeze until firm.

Vegetable Dip
Submitted by: Barbiel
2 (8 ounce) packages cream cheese softened
1/4 cup milk
1 1/2 teaspoons anchovy paste
3 tablespoons grated onion
1 pinch garlic powder
green food coloring (optional)
In a medium-sized mixing bowl, combine cream cheese and milk until creamy. Add more milk for a thinner dip. Using a fork, whip the anchovy paste and onion into the mixture. Cover and refrigerate this dip at least one hour before serving.
Note: Serve with your favorite vegetables: cauliflower, brocoli, carrots, aparagus, potatoes, etc. Serve maybe one of each vegetable for this first couse. You can add more or less of the anchovy paste and onion to suit your tastes. If you like a thinner dip, add a little more milk. Adding some green food coloring it will give a special note.

Herb Cheese Spread
Submitted by: Barbiel
2 packages (8oz each) cream cheese, softened
1/4 cup butter or margarine, softened
2 tablespoons freeze-dried chives
2 tablespoons parsley flakes
1 teaspoon garlic pepper
1/2 teaspoon dill weed
1/4 teaspoon thyme leaves
1/2 cup chopped red bell pepper
Using an electric mixer, beat together cream cheese & butter until fluffy. Add remaining ingredients except the red bell pepper; beat well. Place a piece of plastic wrap on a cookie sheet. Spoon cheese mixture onto plastic wrap to form a log about 3 inches thick and 12 inches long. Fold up plastic wrap over cheese to encase. Refrigerate until cheese is firm, about 4 hours or overnight. Unwrap cheese log. Bend top 1/3 of cheese log over to form a candy cane shape. Place on serving platter. Smooth entire shape with fingers or knife. Decorate with bell pepper to form stripes. Serves 4.

To submit your favorite recipes to be included in the Garden of Friendship Recipe Book, please email them to Barbiel
Background graphics made especially for the Recipes Committee of the Garden of Friendship by Valatine