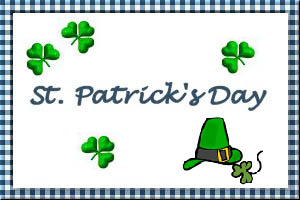 Baby Greens with Irish Bacon
Submitted by: Wolfmama
1/2 pound thick-cut Irish bacon
1/4 cup cider vinegar
1 teaspoon sugar
1 teaspoon dry mustard
1/4 teaspoon salt
1/4 teaspoon cracked black pepper
1/3 cup vegetable oil
1/2 pound prewashed baby salad greens
Slice bacon crosswise into 1/4-inch thick strips. Fry until crisp in a heavy skillet; drain and set aside. In a pint jar with a lid, whisk together vinegar, sugar, mustard, salt and pepper. Add oil; cover and shake until combined. Divide the greens among 8 chilled salad plates; top with bacon. Shake dressing and drizzle over salads. Serve immediately. Makes 8 servings.
Note: Irish bacon is now available in supermarkets across the country. The wide meaty slices provide lots of flavor as a salad topping.

Irish Cream Bread Pudding
Submitted by: Wolfmama
3 cups firm white bread cubes
1/2 cup of raisins
3 large eggs
1/3 cup sugar
1/4 teaspoon salt
2 cups milk
1/2 cup Irish Cream liqueur
vanilla ice cream
ground cinnamon
Generously butter a 2-quart baking dish or casserole. Combine bread and raisins in the buttered dish. Whisk together eggs, sugar and salt in a medium bowl. Gradually whisk in milk and liqueur. Drizzle over bread cube mixture; wrap tightly and refrigerate until ready to bake--several hours or overnight. At least 1 1/2 hours before serving, preheat oven to 350°F. Uncover baking dish and place on rimmed baking sheet. Bake pudding until golden brown and a knife inserted into the center comes out clean (50 to 60 minutes). Set aside to cool slightly before serving. To serve, divide pudding among 8 bowls. Top with ice cream and sprinkle with cinnamon. Makes 8 Servings
Note: This dessert is especially easy for entertaining because you must assemble it ahead of time so it has time for the custard mixture to soak into the bread. It can be baked just before time to start main dish and served at room temperature

Leprechaun Pudding
Submitted by: Wolfmama
1 tablespoon instant pistachio pudding
1/2 cup milk
ziploc baggie
Put the tablespoon of pudding mix and 1/2 cup of milk into the ziploc sandwhich bag. Close the baggie tighly, squeeze and shake. Serve immediately.

To submit your favorite recipes to be included in the Garden of Friendship Recipe Book, please email them to Barbiel
Background graphics made especially for the Recipes Committee of the Garden of Friendship by Valatine