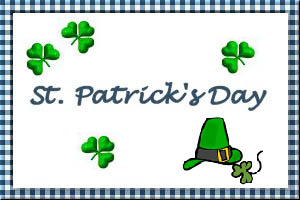 Country Irish Breakfast
Submitted by: KatjaGirl

4 cups cubed cooked potatoes
1/2 cup chopped green pepper
2 tablespoons chopped onion
1/3 cup butter or margarine
salt to taste
black pepper to taste
4 eggs
1 cup shredded cheddar cheese
Cook and stir potatoes, green pepper and onion in butter in skillet on medium heat until lightly browned. Season to taste with salt and black pepper. Beat eggs over potato mixture. Cover; cook until eggs are set. Sprinkle with cheese. Cover. Cook until cheese is melted. Serves 2.

Mussels Vinaigrette
Submitted by: Barbiel
24 mussells
1 cup water
3 slices lemon
3 tablespoons red wine vinegar
2 tablespoons Olive oil
2 tablespoons finely chopped red pepper
2 tablespoons finely chopped onion
2 tablespoons finely chopped parsley
1 1/2 teaspoons TABASCO brand Green Pepper Sauce
1 large garlic clove, minced
1/4 teaspoon salt
Scrub mussels well. Discard any that are not tightly closed. Put water and lemon slices in large saucepan; add mussels and bring to boil. Simmer over low heat 3 to 5 minutes or until mussels open. Remove pan and reserve liquid. Discard any mussels that are not open. Cool mussels and liquid. Meanwhile, stir together vinegar, Olive oil, red pepper, onion, parsley, TABASCO brand Green Pepper Sauce, garlic and salt in medium bowl. Remove mussels from shells (reserve half of shells). Add 1/3 cup cooled liquid and mussels to vegetable mixture. Stir to mix. Cover. Refrigerate at least 2 hours, stirring occasionally. Makes 4 servings.
Note: To serve, place mussels in shells and spoon small amount of marinade on top.

Irish Creme Brulee
Submitted by: Molly
1 cup Irish Creme liquid coffee creamer
1 cup heavy whipping cream
1/3 cup granulated sugar plus1 pinch of salt
5 large egg yolks
1 teaspoon Vanilla extract
5 tablespoons light brown sugar
Preheat oven to 350°F. Place creamer, cream, granulated sugar and salt in medium saucepan. Cook over medium heat, stirring occasionally, for 4 to 5 minutes or until sugar is dissolved. Beat egg yolks in medium bowl; gradually whisk cream mixture into egg yolks. Stir in Vanilla extract. Pour mixture into five 6-ounce custard cups. Place cups in 13-by-9-inch baking pan. Fill pan with hot water to 1-inch depth. Loosely cover with foil. Bake for 70 minutes or until gently set in center. Remove to wire rack to cool slightly. Refrigerate for several hours or overnight. Preheat broiler. Sprinkle each creme brulee evenly with brown sugar. Broil for 2 minutes or until sugar is melted and caramelized. Refrigerate for 30 minutes or until topping hardens. Makes 5 servings.

To submit your favorite recipes to be included in the Garden of Friendship Recipe Book, please email them to Barbiel
Background graphics made especially for the Recipes Committee of the Garden of Friendship by Valatine