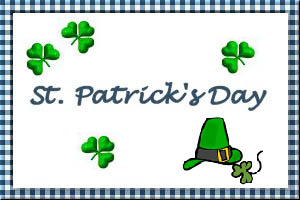 Irish Jig Dessert
Submitted by: Molly
2 tablespoons Whiskey
2 tablespoons sugar
1 teaspoon confectioner's sugar
2 cups heavy whipping cream
1/2 teaspoon Vanilla extract
1 cup coconut macaroons
Crush the macaroons and set aside. Be sure the whipping cream is thoroughly chilled, as well as the bowl and beater attachments. Mix all ingredients except the macaroons. Beat until stiff peaks form. Fold in 3/4 cup crushed macaroons. Spoon into 6-8 dessert glasses. Sprinkle with additional macaroons. Serve immediately. Makes 6-8 servings.

Amber Apple
Submitted by: Molly
1 pound tart cooking apples (peeled, cored and thinly sliced)
4 ounces sugar or to taste
juice of 1 lemon
2 large eggs, separated
Cook the apple slices in about 2 tablespoons of water, stirring occasionally until they form a puree. Add about 3/4 of the sugar, the lemon juice, and the egg yolks. Mix well. Put into an ovenproof dish and bake at 350°F for 20 minutes. Meanwhile, whisk the egg whites until stiff, folding in the remaining sugar. Pile the meringue evenly on top of the apple mixture, return the dish to the oven and bake for about 10 minutes. Serve hot or cold.

Pizza Bagels
Submitted by: KatS
8 ounces ground turkey, browned
(original called for lean beef but we use turkey instead)
6 medium bagels, halved
1 (14 ounce) jar pizza sauce
1/4 cup chopped onion
1 (4 ounce) can sliced mushrooms, drained
1 (4 ounce) can chopped black olives, drained
3/4 cup shredded mozzarella cheese
1/2 cup shredded low-fat cheddar cheese
Preheat oven to 375°F. Arrange bagels cut side up on an ungreased baking sheet. Spread bagels with in order, pizza sauce, mushrooms, olives. Combine both cheeses in a mixing bowl and sprinkle over bagels. Bake until cheese is bubbly about 10 minutes.
Make ahead: Prepare pizzas up to the baking stage, wrap in plastic and freeze for up to a month, great for lunch for one or quick snacks for kids bake frozen at 375°F for about 15 minutes.
Variation: Toasted English muffins in place of bagels.

To submit your favorite recipes to be included in the Garden of Friendship Recipe Book, please email them to Barbiel
Background graphics made especially for the Recipes Committee of the Garden of Friendship by Valatine