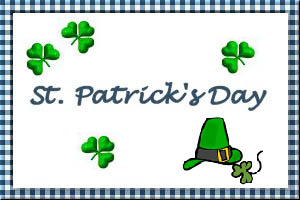 Frankfurter Green Sauce
(German: Frankfurter Grüner Sauce)
Submitted by: Barbiel

a combination of herbs (see below)
2 onions
4-6 hard-boiled eggs
2 tablespoons vinegar
2 1/2 tablespoons oil
2 cups Sour cream
1 cup yogurt
1 1/2 pinch sugar
salt to taste
fresh ground pepper to taste
Herbs:
parsley
chives
dill
chervil
borage
watercress
basil
estragon
lemon grass
Wash all herbs and let dry. Chop finely together with the peeled onions. Put into a big bowl. Mix with vinegar, oil, Sour cream and jogurt, spice, and set aside for one hour. Chop the eggs roughly and mix in. Add some more salt, sugar and pepper. Let rest for 15 minutes. Serve with mashed (or baked) potatoes. Makes 4-6 servings.

Pot 'O Gold Soup
Submitted by: LisaW
2 tablespoons butter or margarine
1 small onion, chopped
4 medium potatoes, cubed
4 chicken bouillon cubes
1 1/2 cups milk
3 cups chopped cabbage
2 cups leftover corned beef, cut into bite-size pieces
In a Dutch oven, melt the butter and cook the onion until soft. Add the potatoes, bouillon cubes, and just enough water to cover, and simmer until potatoes are tender, about 20 minutes. With a hand-held blender, puree the potatoes until smooth. Add the milk, cabbage and leftover corned beef and simmer another 15 minutes. Season with salt and pepper to taste and serve.
Note: A great way to use up leftover corned beef.

Irish Pub Salad
Submitted by: Praying Bear
Salad:
9 cups (about 3/4 pound) Boston or Bibb lettuce, torn
2 cups thinly sliced red cabbage
1 1/4 cups thinly sliced celery (about 3 stalks)
1 cup thinly sliced cauliflower florets
1 cup thinly sliced white mushrooms (8 small to medium mushrooms)
1 cup thinly sliced cucumber (about 1/2 cucumber)
1/2 cup thinly sliced zucchini or yellow squash
10 grape tomatoes, halved
6 hard-boiled eggs, coarsely chopped
Dressing:
2/3 cup Mayonnaise
1/2 cup half-and-half
1 1/2 teaspoons chopped fresh rosemary or 1/2 teaspoon dried, crumbled
1/2 teaspoon chopped fresh tarragon or 1/8 teaspoon dried
1/4 teaspoon salt
1/8 teaspoon freshly ground pepper
6 ounces Cashel Blue (Irish blue cheese), coarsely crumbled (see Note below)
In a large bowl, toss together all salad ingredients. Set aside. In a medium bowl, combine all dressing ingredients except Cashel cheese. Stir until well blended, then stir in cheese. Just before serving, pour dressing over salad and toss well.
Note: Cashel, an Irish blue cheese, adds a creamy texture and sweet, slightly tangy flavor to this main-course salad. If you have trouble finding Cashel, you can substitute a mild Blue cheese, Roquefort or Irish cheddar.

To submit your favorite recipes to be included in the Garden of Friendship Recipe Book, please email them to Barbiel
Background graphics made especially for the Recipes Committee of the Garden of Friendship by Valatine