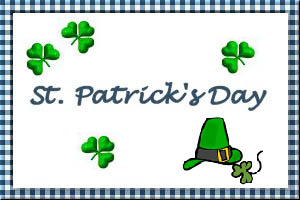 Boxty
(Potato Griddle Cake)
Submitted by: BettyG
1/2 pound raw potato, finely grated
1/2 pound mashed potato
1/2 pound all-purpose flour
milk (see explanation below in recipe)
1 egg
salt and pepper to taste
Combine grated and mashed potato. Add salt, pepper and flour. Beat egg and add to mixture with just enough milk to make a batter that will drop from a spoon. Drop by tablespoonfuls onto a hot griddle or skillet. Cook over medium heat for 3 to 4 minutes on each side. Serves 6 to 8.

Cabbage and Apple Bake
Submitted by: BettyG
1 medium head cabbage, coarsely chopped
2 cups apples, sliced, peeled
1/3 cup sugar
1 cup of fine bread crumbs
6 tablespoons butter, melted
Drop chopped cabbage in boiling water and cook 3-5 minutes. Until slightly tender but still crunchy. Drain well. Layer cabbage and apples in a 2 - quart casserole, sprinkling sugar and bread crumbs on each layer. Pat top layer flat before adding last crumbs. Pour melted butter over top of casserole. Cover and bake at 350° for 45 minutes, or until hot throughout. Remove cover during last 15 minutes. Serves 4 to 6.

Maeve Cheese Fries
Submitted by: Merribuck
4 slices bread (about 1/4-inch thick)
2 tablespoons butter
1/2 cup grated hard cheese
1/2 cup processed or cream cheese
1/2 teaspoon paprika
1 clove garlic, crushed
1/2 teaspoon caraway seeds
pinch of black pepper
2 chopped shallots or spring onions (scallions)
1 egg
bacon fat or butter for frying
Cream 1 tablespoon butter, add grated cheese, cream cheese, garlic, and seasonings, beating well until smooth. Chop the shallots or onions, add to the remaining butter, and fold into the cheese mixture. Spread this filling on two slices of bread, cover with the other two, pressing well together. Cut in halves or quarters, brush with beaten egg, and fry golden brown in butter or bacon fat.

To submit your favorite recipes to be included in the Garden of Friendship Recipe Book, please email them to Barbiel
Background graphics made especially for the Recipes Committee of the Garden of Friendship by Valatine