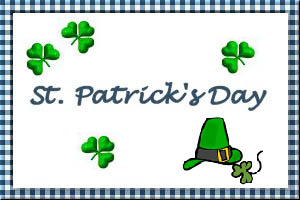 Slieve Na Mbam Carrots
(Traditional Irish Dish)
Submitted by: Jana
12 young carrots
3 tablespoons butter
1/2 cup milk
1/2 cup heavy cream
2 egg yolks
1 teaspoon chopped fresh parsley
Trim and wash the carrots and halve lengthwise. Melt butter over medium heat. Add milk, season with salt and pepper. Add carrots and cook gently until just tender. Remove from heat and stir in cream and beaten egg yolks. Reheat but do not boil, stirring constantly until the eggs thicken. Correct seasoning and add parsley. Serves 2.
Note: The reddish crest of Sleieve na mBan (The Mountain of Women in Ireland) rising above the milk-white mist that forms there gives its name to this dish of cream-wreathed carrots.

Oven Baked Chicken Parmesan
Submitted by: KatjaGirl

6 boneless skinless chicken breast halves (about 2 lb)
1 package Chicken Seasoned Coating Mix
2 cups spaghetti sauce
1 1/2 cups shredded Mozzarella cheese
1/4 cup grated Parmesan cheese
1 teaspoon dried oregano leaves (optional)
Coat chicken with the coating mix, as directed on package. Place in a 13x9-inch baking pan. Bake at 400°F for 20 minutes or until chicken is cooked through. Top each chicken breast with sauce and cheeses. Sprinkle with oregano. Bake an additional 5 minutes or until cheese is melted. Serves 4.
Note: SHAKE 'N BAKE Chicken Seasoned Coating Mix is the best one to be used in this recipe.

Warm Chicken Salad
Submitted by: KatjaGirl
1 cup ranch dressing, divided
1 lb boneless skinless chicken breasts, cut into strips
1 package (10 oz.) salad greens
1 cup raisins or dried cranberries
1/4 cup sliced almonds, toasted
salt and pepper to taste (optional)
Heat 1/4 cup of the dressing in skillet 2 to 3 minutes on medium-high heat. Add chicken; cook and stir 8 minutes or until chicken is cooked through. Toss chicken, greens, raisins and almonds. Spoon onto serving platter. Drizzle with remaining 3/4 cup dressing. Season with salt and pepper (as you like!).

To submit your favorite recipes to be included in the Garden of Friendship Recipe Book, please email them to Barbiel
Background graphics made especially for the Recipes Committee of the Garden of Friendship by Valatine