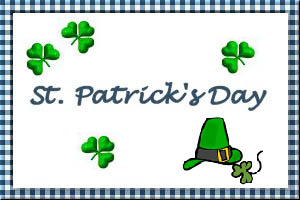 Granny's Lamb Stew
Submitted by: Jezebel Jen
2 tablespoons vegetable oil
2 pounds boneless lamb, cut into chunks
8 1/2 cups water, divided
1 teaspoon salt
1/2 teaspoon ground black pepper
1/2 pound carrots, peeled and sliced
1 turnip, peeled and sliced
1 pound leeks, sliced (white and light green parts), divided
1 pound potato, peeled and diced
1/4 cup flour
1/2 cup chopped fresh parsley

In a heated skillet add oil and lamb, cook for about 5 minutes, turning often, until lamb is browned. Transfer lamb to a large stockpot and add 8 cups water, salt and pepper; mix well and simmer slowly for 20 minutes. Add carrots, turnips and white part of leeks; simmer gently for 1 hour. Add potatoes and continue to simmer for another 30 minutes. Whisk flour with remaining 1/2 cup water and pour into soup mixture. Add green part of leeks along with parsley; simmer for 10 minutes. Remove from heat and serve hot.

Potato Onion Soup Irish Style
Submitted by: Merribuck
2 medium yellow onions, peeled and sliced
2 pounds potatoes, peeled and sliced
3 cups milk
5-1/2 cups homemade chicken stock or use canned
1/4 cup chopped fresh chives
1/2 teaspoon celery seeds
1/4 teaspoon dried thyme, whole
1 cup light cream
salt and freshly ground black pepper to taste
2 tablespoons butter
2 tablespoons all-purpose flour
1/2 cup chopped fresh chives
6 slices lean bacon, crisply fried and chopped
Heat a 6- to 8-quart stockpot, add the butter and onion, and cook gently. Do not let the onion brown. Add the peeled and sliced potatoes, milk, and stock. Add the herbs. Cover and cook gently for about an hour. Prepare a roux: Melt the butter in a small saucepan and whisk in the flour. Let the flour and butter mixture (roux) bubble for 2 minutes on medium-low heat, stirring constandly. Thicken the soup with the roux, whisking carefully to avoid lumps. Cook for 5 to 10 minutes and then puree the soup in a food processor or food blender. Add the cream and gently reheat, but do not boil. Season with salt and pepper. Serve with chopped fresh chives and the crisply fried bacon as garnishes. Additional garnishes you can use instead of bacon are chopped prawns or a small dice of lobster. Yield: 8-10 servings.
Note: This soup can also be made with the chopped white part of 5 or 6 large leeks instead of onions.

Title
Submitted by:
Ingredients
Ingredients
Instructions

To submit your favorite recipes to be included in the Garden of Friendship Recipe Book, please email them to Barbiel
Background graphics made especially for the Recipes Committee of the Garden of Friendship by Valatine