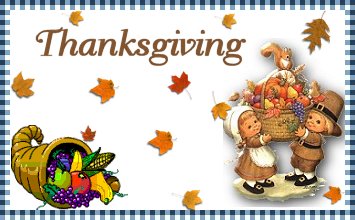 Buttered Bread
Submitted by: Becky
1 (.25 ounce) package active dry yeast
1 cup warm milk
1/2 cup white sugar
2 eggs, beaten
1/2 cup butter, melted
1 teaspoon salt
4 cups all-purpose flour
In a large bowl, mix together yeast, milk and sugar. Let stand for 30 minutes. Mix eggs, butter and salt into yeast mixture. Mix in flour, 2 cups at a time. Cover with wax paper. Let dough stand at room temperature overnight. In the morning, divide the dough in half. Roll each half into a 9 inch round circle. Cut each round into 12 pie shaped wedges. Roll up each wedge starting from wide end to the tip. Place on greased cookie sheets. Let stand until ready to bake. Bake at 375°F (190°C) for 12 to 15 minutes.

Pumpkin Bread I
Submitted by: Wolfmama
2 2/3 cups sugar
2/3 cup margarine
4 eggs
3 1/3 cup flour
1/2 teaspoon baking powder
2 teaspoon soda
2 cup pumpkin
1 teaspoon cinnamon
1/2 teaspoon cloves
2/3 cup water

Mix above together. Bake 1 hour at 350°F. Makes 2 loaves.

Thanksgiving Maize
Submitted by: Wolfmama
1 can whole kernel corn, drained
1 can cream corn, drained
1 box (Jiffy) cornmeal
1 (8 ounce) sour cream
1 stick margarine, melted

Drain both cans of corn. Melt (1) one stick or margarine. Then combine all ingredients in a mixing bowl. Bake in a greased 9 x 9-inch pan at 350°F for 1 (one) hour.

To submit your favorite recipes to be included in the Garden of Friendship Recipe Book, please email them to Barbiel
Background graphics made especially for the Recipes Committee of the Garden of Friendship by Valatine