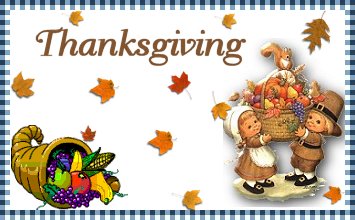 Cranberry Cream Cheese Mold
Submitted by: SueW
1 1/2 cups boiling water
1 package (8 serving size) cranberry flavor JELL-O
(or any red flavor your preference)
1 1/2 cups cold water
1/2 teaspoom ground cinnamon
1 medium apple, chopped
1 cup whole berry cranberry sauce
1 package (8 ounces) Cream cheese, softened
Stir boiling water into gelatin in large bowl at least 2 minutes until completely dissolved. Stir in cold water and cinnamon. Reserve 1 cup gelatin at room temperature. Refrigerate remaining gelatin about 1 1/2 hours or until thickened. Stir in apple and cranberry sauce into thickened gelatin. Spoon into 6 cup mold. Refrigerate about 30 minutes or until set but not firm; gelatin should stick to finger when touched and should mound. Stir reserved 1 cup gelatin gradually into Cream cheese in medium bowl with wire whisk until smooth. Pour over gelatin layer in mold. Refrigerate 4 hours or until firm. Unmold. Makes 12 servings.

Pumpkin Cake with Ginger Frosting
Submitted by: Ginadapooh
1 cup pumpkin
3/4 cup firmly packed brown sugar
3/4 cup sugar
3 large egg
1/2 cup vegetable oil
2 teaspoons ground cinnamon
1 teaspoon baking powder
3/4 teaspoon nutmeg
3/4 teaspoon salt
1/2 teaspoon ground clove
1/4 teaspoon baking soda
1 3/4 cups all-purpose flour
Position racks to divide oven in thirds. Heat oven to 350°F. Coat three 8-in. round cake pans with nonstick spray. Line bottoms with wax paper. Place pumpkin and sugars in a large bowl. Whisk until sugars dissolve. Add next 8 ingredients whisk until well blended. Stir in flour just until mixed. Divide batter between prepared pans (scant 1 1/4 cups each); smooth tops. Stagger pans on oven racks and bake 25 to 30 minutes until tops spring back when canter of cakes are gently pressed. Cool in pans on a wire rack 10 minutes. Run a knife between cakes and pans; invert cakes onto rack, peel off paper and cool completely.
Ginger Frosting
6 ounces Cream cheese, softened
6 tablespoons butter, softened
3 tablespoons crystallized ginger, minced
2 1/2 cups confectioner's sugar
Frosting: Beat Cream cheese, butter and ginger in a large bowl with mixer on high speed until blended and smooth. Reduce speed to low and beat in sugar until well blended.
Frost: Put 1 cake layer on a serving plate. Attach with dollop of frosting. Spread top with about 3/4 cup frosting. Repeat twice, swirling frosting on top layer. Garnish with orange and mint.

Caramel Pecan Apple Pie
Submitted by: Molly
Pie:
15 oz. package Pillsbury All Ready Pie crust
1 teaspoon flour
Glaze:
1/3 cup Kraft Caramel Topping
2 to 4 tablespoons chopped pecans
Filling:
6 cups thinly sliced, peeled apples
3/4 cup sugar
1/4 cup flour
1/4 teaspoon salt
2 tablespoons Parkay butter
Prepare pie crust according to package directions for two crust pie. Heat oven to 425°F. In large bowl, combine apples, sugar, flour and salt. Toss lightly. Spoon apple mixture into pie crust lined pan. Dot with butter. Top with second crust and flute. Cut slits in several places. Bake at 425°F for 35 to 45 minutes or until apples are tender. Remove pie from oven. Immediately drizzle with caramel topping. Sprinkle with nuts.

To submit your favorite recipes to be included in the Garden of Friendship Recipe Book, please email them to Barbiel
Background graphics made especially for the Recipes Committee of the Garden of Friendship by Valatine