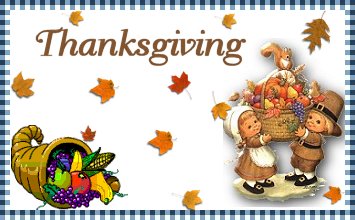 Impossible Pumpkin Pie
Submitted by: BettyG
(From the kitchen of Mary Beth Roe - QVC)
1/2 cup Bisquick
4 eggs
15 oz. can pumpkin
1 tsp. ginger
1/2 tsp. cinnamon
1/2 tsp. nutmeg
2 cups milk
3/4 cup sugar
Combine all ingredients in blender and blend 3 minutes or use electric mixer in high speed. Pour into greased and floured pan. Bake 1 hour at 350°F. Cool and refrigerate. Serve with your favorite whipped topping.
Note: Use a non-stick pie pan to make this fall favorite.

Cranberry Salad
Submitted by: Cookie
2 cups chopped cranberries
3 cups miniature marshmallows
3/4 cup sugar
2 cups chopped unpeeled apples
1/2 cup seedless grapes
1/2 cup chopped walnuts (I used pecans)
1/4 tsp. salt
1 cup whipping cream, whipped
Cover marshmallows and cranberries with sugar. Chill overnight. Add apples, grapes, walnuts, salt and whipping cream. Chill until ready to serve.

Cranberry and Orange Thyme Sorbet
Submitted by: Barbiel
12 ounces fresh cranberries, washed
1 cup sugar
1 1/2 cups water
thinly sliced zest of 2 oranges (removed with a zester)
8 to 12 3-inch springs fresh thyme,
such as orange balsam, lemon, or English thyme (1/2 ounce)
1 1/2 cups freshly squeezed orange juice
Bring the cranberries, sugar, water, and orange zest to a boil in a medium (3-quart) saucepan. Partially cover the pan and boil until most of the cranberries pop, about 5 minutes. Stir in the thyme sprigs, remove from the heat, cover tightly, and steep for 30 minutes. Pour the fruit mixture into a fine sieve set on top of a deep bowl. Stir and press down on the fruit with the back of a large spoon to extract as much juice and pulp as you can, leaving the skins and thyme behind in the sieve. Refrigerate the strained mixture until thoroughly chilled. Stir in the orange juice. Freeze in an ice cream make according to the manufacturer's directions. Makes 1 quart, 8 servings.

To submit your favorite recipes to be included in the Garden of Friendship Recipe Book, please email them to Barbiel
Background graphics made especially for the Recipes Committee of the Garden of Friendship by Valatine