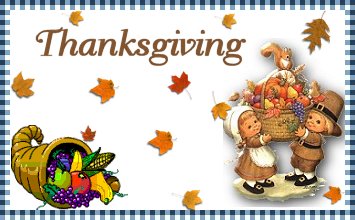 Corn Salad
Submitted by: Praying Bear
2 (12oz.) cans whole kernel corn, drained
3/4 cup diced cucumbers
1/4 cup diced onion
2 small tomatoes, chopped
1/4 cup sour cream
2 tablespoons. mayonnaise
1 tablespoon vinegar
1/2 teaspoon salt
1/4 teaspoon dry mustard
1/4 teaspoon celery salt
Combine corn, cucumbers, onions and tomatoes in salad bowl. Blend sour cream with mayonnaise. Add remaining ingredients. Add sour cream mixture to corn mixture. Toss gently to coat vegetables. Chill corn salad thoroughly.

Orange Butternut Squash Soup
Submitted by: Merribuck

1 tablespoon extra-virgin Olive oil
1 tablespoon unsalted butter
1 medium onion, finely chopped
4 carrots, finely chopped
salt and pepper
1/2 cup pulpy orange juice
2 boxes frozen butternut squash puree
2 or 3 cups chicken broth
salt and pepper
grated nutmeg
1 tablespoon chopped fresh thyme leaves, for garnish
1 tablespoon orange zest, for garnish
Heat a soup pot over medium-high heat. Add one tablespoon extra-virgin Olive oil and 1 tablespoon of butter. When butter has melted, add the onion and carrots and cook until vegetables are soft, about 5 minutes. Season with salt and pepper. Deglaze with the orange juice and simmer for 1 to 2 minutes, scraping the bottom of the pot with a wooden spoon. Transfer the mixture to a food processor or a blender. Puree the mixture until smooth, then return to pot over medium heat. To mixture, add the frozen butternut squash puree and the chicken broth and stir to combine. Adjust the seasoning. Bring to a boil, then lower the heat and let simmer for 10 minutes. Grate some fresh nutmeg and stir to combine. Ladle soup into bowls and garnish with chopped thyme and orange zest.

Turkey Herb Soup with Corn Stuffing Fritters
Submitted by: Merribuck
Canola oil, for shallow frying
1 large minced onion
1 tablespoon minced ginger
1 tablespoon fresh minced thyme
1 tablespoon fresh minced sage
2 tablespoons fresh minced flat leaf parsley
2 tablespoons fresh minced cilantro
1/2 cup shredded Parmigiano-Reggiano cheese
1 quart turkey stock (mire poix, thyme, garlic, Turkey carcass and wings, cold water, black peppercorns, bay leaf: simmered for at least 3 hours), strained
1 cup shredded white meat
1 cup shredded dark meat
2 cups leftover stuffing
1 cup blanched corn
4 eggs, lightly beaten
salt and pepper, to taste
In a small stock pot coated lightly with oil, sauté the onions and ginger until soft, about 2 to 3 minutes. Season. Add thyme, sage, parsley, cilantro and stock. Bring to a simmer and reduce by only 10 percent. Add the meat and check for seasoning. Keep very hot in a soup tureen.
Fritters: Mix the stuffing (if large pieces, chop up a bit), corn, eggs and cheese. Heat a cast iron pan or other heavy bottomed pan with 1-inch of oil to about 350°F. Gently drop a heaping tablespoon of the mixture into the oil. When brown, about 2 to 3 minutes, flip over. Drain on paper towels and season with a little salt.
Plating: Place fritters in individual warm soup plates. At the table, ladle the broth in the bowl. Enjoy.
Beverage: Whatever leftover wines one has from Thanksgiving, like Gamay or Chardonnay.

To submit your favorite recipes to be included in the Garden of Friendship Recipe Book, please email them to Barbiel
Background graphics made especially for the Recipes Committee of the Garden of Friendship by Valatine