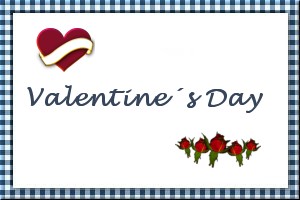 Special Valentine's Cocktail
Submitted by: Barbiel
1/2 oz Gin
1/2 oz Cointreau
1/2 teaspoon Grenadine
1/2 teaspoon lemon juice
crushed ice
one strawberry (or one cherry) to garnish (optional)
Shake together the Gin, Contreau, Grenadine, lemon juice and crushed ice. Strain into chilled cocktail glass. Garnish with stawberry (cherry) if desired. Serve immediately. Makes one serving.

Valentine's Orange Sunrise
Submitted by: Barbiel
2 eggs
1/4 cup frozen orange juice concentrate
2 tablespoons honey
2 cups cold milk
8 oz orange flavoured yogurt
Combine the eggs, orange juice and honey in the blender. Blend until smooth (about 1 minute). Add the milk and yougurt. Blend until smooth and frothy. Serve at once in tall, chilled glass. Serves 2.

Cupid's Exotic Love Tea
Submitted by: Barbiel
1 cup water
1/4 cup honey
1 cup apple juice
1/4 teaspoon cinnamon
6 Celestial Seasonings Cranberry Cove tea bags
Bring water and juice to a boil. Stir in honey and cinnamon. Add the tea bags. Remove from heat. Let stand for one hour. Add 6 cups cold water Pour into glasses with ice. Sit back, sip and fall in love. Can be stored in the refrigerator for three days. Serves 6.

To submit your favorite recipes to be included in the Garden of Friendship Recipe Book, please email them to Barbiel
Background graphics made especially for the Recipes Committee of the Garden of Friendship by Valatine