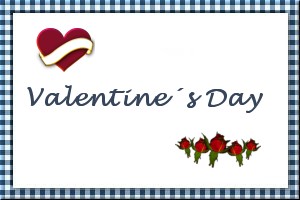 Valentine's Day Cake
Submitted by: Jana
1/2 cup of crisco
1 1/2 cups sugar
2 eggs, well beaten
2 cups flour
1 tablespoon cocoa
1 teaspoon salt
1 teaspoon baking soda
1 tablespoon vinegar
Filling and Icing:
1 cup milk
1/4 cup flour
dash of salt
Cream:
1/2 cup crisco
1 stick margarine
1 cup granulated sugar
2 teaspoons vanilla
Cream together cisco, sugar and eggs. Sift flour, cocoa and salt 3 times. Dissolve baking soda quickly in vinegar and fold into the mixture. Use 2, 9" Layer pans that have been greased and floured. Bake at 350°F for 30-35 minutes. Makes 1 cake.
Filling and Icing: Cook on low flame to pudding stage milk, flour and salt. Add to pudding and beat well. Spead between layers and on top and sides. Sprinkle with coconut.

Strawberry-Rhubarb "Courting" Cake
Submitted by: Jana
1 cup (2 sticks) unsalted butter, room temperature
1 cup plus 8 tablespoons sugar
4 eggs
3 teaspoons vanilla extract
2 3/4 cups all purpose flour
4 teaspoons baking powder
2 teaspoons ground nutmeg
1 teaspoon salt
1/4 cup milk
1 1/2 cups chilled whipping cream
powdered sugar
1 1-pint basket strawberries, stemmed
Compote:
4 cups 1/2-inch-thick rhubarb slices
(about 1 generous pound)
1/2 cup sugar
2 tablespoons water
1 16-ounce package frozen sliced sweetened strawberries, thawed
1/2 teaspoon vanilla extract
1/2 teaspoon ground nutmeg
Cake: Preheat oven to 350°F. Butter two 9-inch-diameter cake pans with 1 1/2-inch-high sides. Line bottoms with parchment. Using electric mixer, beat butter until light. Add 1 cup plus 2 tablespoons sugar and beat until fluffy. Beat in eggs 1 at a time. Beat in 2 teaspoons vanilla. Sift flour, baking powder, 1 teaspoon nutmeg and salt into medium bowl. Fold into butter mixture. Gently mix in milk. Divide batter between prepared pans. Bake cakes until firm to touch about 30 minutes. Cool cakes in pans on racks 15 minutes. Turn out cakes onto racks and cool completely. Split each cake into 2 layers, using serrated knife. Combine cream, 6 tablespoons sugar, 1 teaspoon vanilla and 1 teaspoon nutmeg in bowl. Beat to stiff peaks. Place 1 cake layer, cut side up, on platter. Spread with 3/4 cup compote, then 1 cup cream. Repeat layering with 2 more cake layers, compote and cream. Top with last cake layer, cut side down. Cover cake and chill 1 hour. Dust with powdered sugar. Arrange berries atop cake. Serve, spooning some of remaining compote over each slice. Makes 10 servings.
Compote: Combine rhubarb, sugar and water in heavy medium saucepan. Bring just to boil. Reduce heat, cover and cook just until rhubarb is tender, about 5 minutes. Remove from heat; mix in berries, vanilla and nutmeg. Chill until cold. Makes about 3 1/2 cups.
Notes: Cake can be prepared 6 hours ahead (keep refrigerated). Compote can be made 1 day ahead (keep chilled).

Chocolate Stout Silk Pie
Submitted by: JoyC
Crust
1 1/2 cups crushed graham crackers
1/3 cup melted butter
Garnish
whipped cream
Filling
12 oz. semisweet or bittersweet chocolate
24 large marshmallows
pinch of salt
2/3 cups stout (a hearty dark beer)
1/3 cup evaporated milk
1 teaspoon vanilla
1 tablespoon creme de cacao Liqueur
Preheat oven to 350°F. Add melted butter to crushed graham crackers and mix until well blended. Using fingers, press crust mixture into bottom and up the sides of a pie pan. Bake crust for about 6 minutes until set. (You can alternatively use a ready made graham cracker crust.) Place chocolate, marshmallows and salt in a blender. Blend until well mixed and chocolate is finely ground. In two separate saucepans (in order to prevent curdling), heat stout and evaporated milk until very hot, but not boiling. Pour stout and milk into blender and blend for one minute. Add vanilla and creme de cacao and blend. Pour into the crust and refrigerate overnight. Garnish with whipped cream.
Note: Semiweet/bittersweet chocolate can be substituted by chocolate chips.

To submit your favorite recipes to be included in the Garden of Friendship Recipe Book, please email them to Barbiel
Background graphics made especially for the Recipes Committee of the Garden of Friendship by Valatine