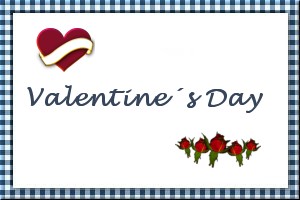 Valentine Bread
Submitted by: SueW
10 oz. frozen sweetened strawberries
2 eggs
3/4 cup oil
1 1/2 cup flour
1 cup sugar
1 teaspoon cinnamon
1/2 teaspoon baking soda
3/4 cup chopped walnuts

Preheat oven to 325°F. Thaw strawberries but do not drain. Puree berries with eggs and oil. Sift dry ingredients into bowl. Stir in strawberry mixture and nuts. Blend well. Pour into lightly greased 9x5 inch loaf pan. Bake for 70 minutes or until tester comes out clear. Let cool in pan.

Secret Kiss Cookies
Submitted by: Barbiel
1 cup butter, softened
2/3 cup sugar
1 teaspoon vanilla
2 cups flour
1 cup finely chopped walnuts
1 pound chocolate kisses, wrappers removed
1 cup powdered sugar
Cream together butter, sugar and vanilla in a mixing bowl until light and fluffy. Sift in flour and fold in walnuts until well blended. Wrap dough in wax paper or plastic wrap; refrigerate for 2 hours. Preheat oven to 350°F. Wrap each chocolate kiss with enough dough to completely hide candy, rolling each into a ball. Place each ball on an ungreased baking sheet. Bake until set but not brown, 8 to 10 minutes. Remove from oven. Roll each cookie in powdered sugar. Place on a wire rack to cool. Makes 36 cookies.

Coconut Macaroons
Submitted by: Barbiel
2/3 cup sweetened condensed milk
3 cups coconut, shredded
1 teaspoon vanilla
1 teaspoon white rum
Blend in a bowl the sweetened condensed milk, shredded coconut, vanilla and rum. Drop by teaspoonfuls onto a well greased baking sheet. Bake at 350°F until light brown, about 8 to 10 minutes. Remove from the pan at once and cool on a wire rack. Makes 24 portions.
Note: For Coconut and Chocolate Macaroons: stir into dough 1/4 cup (1.5 oz.) NESTLÉ® TOLL HOUSE® Semi-Sweet Chocolate Mini Morsels. Proceed as above.

To submit your favorite recipes to be included in the Garden of Friendship Recipe Book, please email them to Barbiel
Background graphics made especially for the Recipes Committee of the Garden of Friendship by Valatine