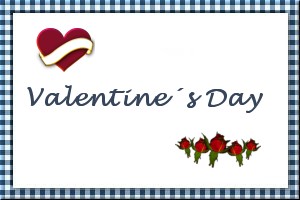 Hearts in a Frame
Submitted by: Jana
1 (10 3/4 oz.) Sara Lee Pound Cake, frozen
4 egg whites (room temperature)
1 tablespoon minced fresh or 2 teaspoons dried chives
pinch of paprika
1 seedless medium orange, peeled and thinly sliced
(for garnish)
Cut pound cake horizontally in half; return one half to freezer. Cut remaining half vertically into 2 equal-size slices. Using a heart-shaped cookie cutter, approximately 1 1/2-inches in diameter, cut out a heart in the middle of each cake slice; set aside. In a deep, medium bowl, beat egg whites and spices together until frothy. Place cake slices and heart-shaped cut-outs in a heated skillet coated with non-stick vegetable oil cooking spray. Fill the hole in the cake slices with egg white mixture; cover and cook over low heat until egg white in each is firm. Turn over cake slices and heart shapes; continue to brown lightly, about 1 minute. Garnish each serving with orange slices and serve with a favorite Champagne or herbal tea. Makes 2 servings.

Raspberry Sherbet with Raspberry Sauce
Recipe courtesy: Jacques Pepin
Submitted by: Merribuck
2 pounds fresh raspberries or 1 1/2 pounds frozen unsweetened raspberries
(2 packages, 3/4 pound each)
1 1/2 cups fresh raspberries
2 cups seedless red or black-raspberry preserves
2 tablespoons raspberry brandy
2 tablespoons lemon juice
1/2 cup water
mint, edible flowers, or lemon peel, for decoration
Chantilly (sweetened whipped cream), as an accompaniment
(regular whipped cream would work as well)
Reserve 1 1/2 cups of the fresh berries to fill the sherbet receptacles at serving time. Put the 1 1/2 pounds of fresh or defrosted frozen berries in the bowl of a food processor with the preserves, and process until liquefied, or push through a food mill fitted with the fine screen. Strain through a sieve to remove any remaining seeds. You should have about 3 1/2 cups of raspberry coulis or puree. Reserve 1 1/2 cups for the sauce, and add the brandy to this sauce. Refrigerate until serving time. Add the lemon juice and water to the remaining 2 cups to be used for the sherbet, and freeze, covered with plastic wrap, in a stainless-steel bowl for about 3 hours, until frozen but not too hard. Break the frozen sherbet into pieces with a spoon, and dump them into the bowl of a food processor. Emulsify in several batches or all together until the sherbet becomes creamy and lighter in color. It should not be processed much more than 30 seconds; by then, it will have liquefied a little. Return the puree to the stainless-steel bowl, cover, and put back in the freezer for a few hours. To make the sherbet receptacles, line six 1-cup glass bowls with plastic wrap, and spoon a sizable scoop of sherbet inside each. With a spoon, press on the center of each scoop to hollow it out, and push the sherbet up around the sides of the cup to create a "nest" in the center. Fold the plastic-wrap edges over the sherbet, and place in the freezer for a few hours, until hard. (This can be done several days ahead).
Serve: Remove the frozen sherbet receptacles from the freezer, and pull back the plastic wrap to expose the center. Fill each with about 1/4 cup fresh raspberries. Invert the sherbet cups carefully in the center of six dessert plates, and remove the plastic wrap. Pour the raspberry sauce around the cups, decorate with lemon peel, mint, or edible flowers, and serve. Makes 6 servings.
Note: A simple V cut on one side of the finished mound and a slight cut to the opposite side would make a very lovely heart.

Artichokes
Submitted by: JoyC
fresh artichokes
1/2 lemon juice
1 teaspoon mayonaisse (or butter)
1/2 teaspoon dill
1/4 teaspoon dijon mustard
Remove course outer leaves of the artichoke. Steam artichokes until tender (5-7 min). Mix together lemon juice, mayonaisse (or butter), dill, and dijon mustard to use for dipping.
Note: Remind your guests that the best part of the artichoke is the tender bottom heart. Make sure you have a little bowl for the leaves.

To submit your favorite recipes to be included in the Garden of Friendship Recipe Book, please email them to Barbiel
Background graphics made especially for the Recipes Committee of the Garden of Friendship by Valatine